Logitech G602 Wireless Gaming Mouse Dishes 250 Hours Of Battery Life

Aiming to "dispel wireless gaming myths" with its ability to work with 250 hours of "gaming battery life" as well as a new Delta Zero sensor, the Logitech G602 arrives this week. This device is indeed a wireless gaming mouse, connecting to your computer with its own unique wireless protocol (with a 2.4GHz wireless connection) – similar to that of the G peripherals announced earlier this year. This mouse offers up to 2 meters/second (80ips) with Logitech Gaming Software and it works with both Windows and Mac operating systems right out of the box.
The battery life on this device is, of course, based on how heavily you plan on using it, but in "Performance Mode" – as quoted by Logitech – you're set for 250 hours of life. In "Endurance Mode", meanwhile, you'll be rolling out to 1440 hours – don't expect to play that many hours of your favorite MMORPG in a row, but expect a massive amount of life one way or the other.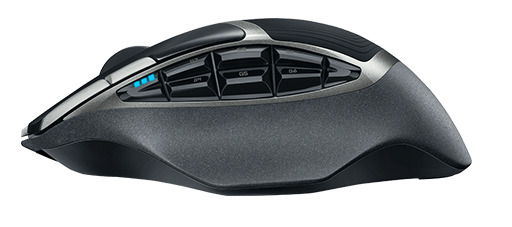 Around the edges and right up front you've got a total of 11 programmable controls. With Logitech Gaming Software (included for free) you'll be able to store a profile for your mouse onboard the mouse itself for use with any PC. Meanwhile that Delta Zero sensor consiss of an LED-illuminated bit of architecture with 2500 DPI sensing abilities.
This machine works with USB data format at 16 bits/axis and USB report rate up to 500 reports per second. With a dynamic coefficient of friction at Mu (k) .09 and a static coefficient of friction at Mu (s) .14, you'll be flying across your desktop so fast you'll have to remind yourself you've got a mouse in your hand. Both of these numbers come with testing on a wood-veneer desktop, mind you, so grab one of those while you're at it.
Inside the box you'll be getting the mouse, a wireless receiver tuned specifically to the mouse, a receiver extender cable (incase your computer is buried under a stack of steel plates for whatever reason), 2 AA batteries, and a bit of the ol' user documentation. This mouse works with Logitech software that works instantly with Windows Vista, Windows 7, or Windows 8 as well as Mac OS 10.6.8 or higher. This mouse will run you a cool $79.99 USD this week and – just so you know – it goes by code-name 910-003820.