Logitech G27 Racing Wheel: judder-free force-feedback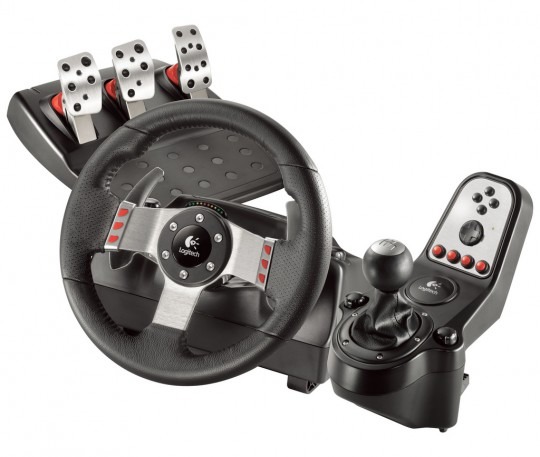 Logitech have outed their latest Racing Wheel, the G27, and it looks to be the ideal way to make your desk feel like a car.  Intended for PS2, PS3 and PC gamers, the G27 set consists of the steering wheel – with force-feedback, real leather and stainless steel, paddle shifters and programmable LEDs – plus a three pedal set and a separate shifter with eight buttons and a D-pad.
The whole thing clamps to your desk via what looks to be a pretty intimidating screw fitting, and Logitech have apparently tweaked their force-feedback system – more on that here – to reduce vibration and excess noise.  Meanwhile the pedals have been slightly tweaked from their G25 configuration with higher brake and clutch supports and user-tweakable faces; that, the company says, is better for heel-and-toe braking.
An SDK is already in the wild for taking advantage of those LEDs, which can be used to show RPM or shift indicators, and the G27 set is already up for pre-order.  Authentic desktop driving experiences don't come cheap, however; expect to pay $299.99.