Logitech Base Review: The iPad Pro stand Apple should've made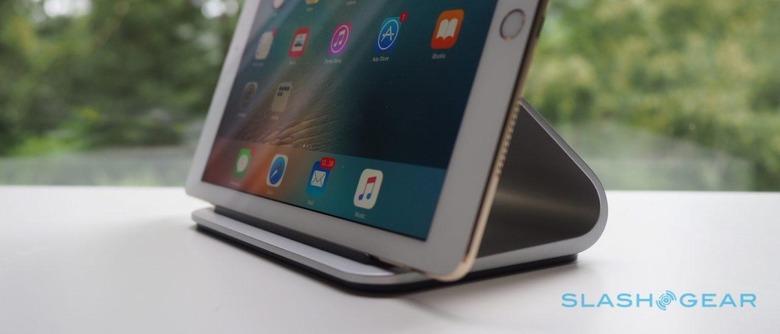 Apple's Smart Connector on the iPad Pro has more potential than just the Smart Keyboard case, but it's Logitech that's filling in the biggest gap for the high-end tablet. The Logitech Base gives your iPad Pro a permanent perch on your desktop, a sleek stand that not only works as a useful home for the slate, but keeps it charged up while it's there.
I can't knock the build quality. The Base is predominantly made from aluminum – it looks and feels like the stand of an iMac, in fact – with a strip of plastic within which the pins for the Smart Connector are embedded. Just as with the Smart Keyboard, magnets help guide the two together.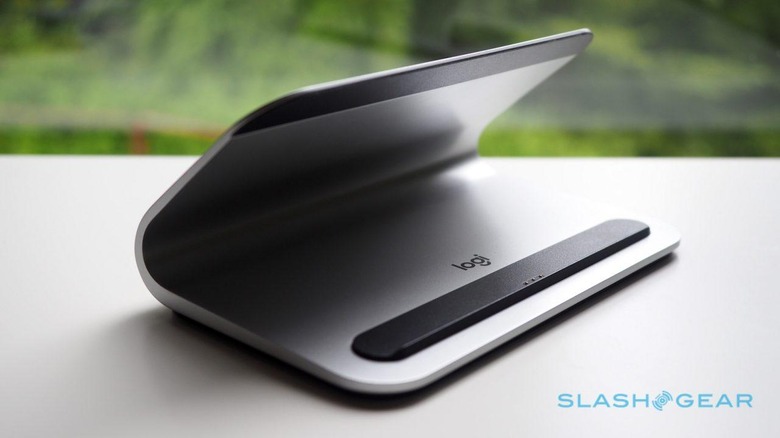 Underneath there's a sticky, grippy foot to keep the iPad from sliding around your desk if you're tapping at it, or indeed sketching with the Apple Pencil. Unfortunately there's no silo for the stylus itself, which would've been a nice addition.
Though it may look like the back of your iPad is resting against metal, in fact there's a tiny plastic lip on the Base to keep from scratching. On the back there's a Lightning port, into which you plug your existing AC adapter: Logitech doesn't include either the power supply or a spare Lightning cable in the box.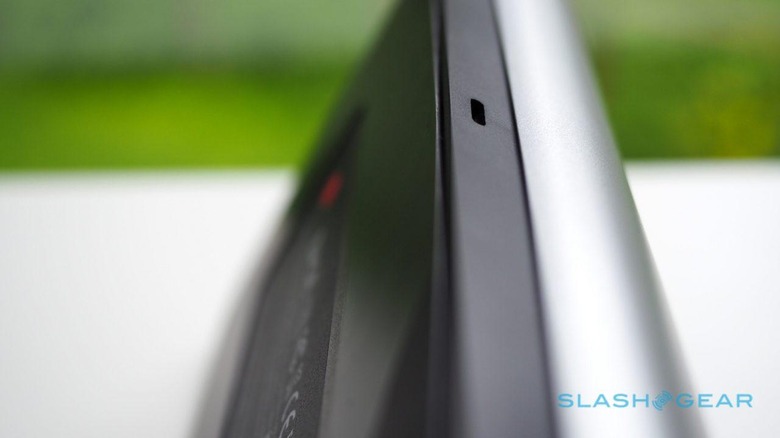 You'll need that AC adapter, too, since Logitech doesn't recommend trying to recharge via the Base stand from a USB port. It's not entirely clear why that's the case – you can plug your iPad Pro in directly to a Mac, for instance, and have it charge, though it might not do so at the same speed as with higher-powered adapters.
A full charge, without the iPad Pro 12.9 being used, takes around seven hours with the 12W Apple adapter, according to Logitech (unfortunately there doesn't appear to be support for the faster Apple 29W USB-C adapter which works with the iPad Pro 12.9's fast-charge). The smaller iPad Pro 9.7 knocks a couple of hours off that.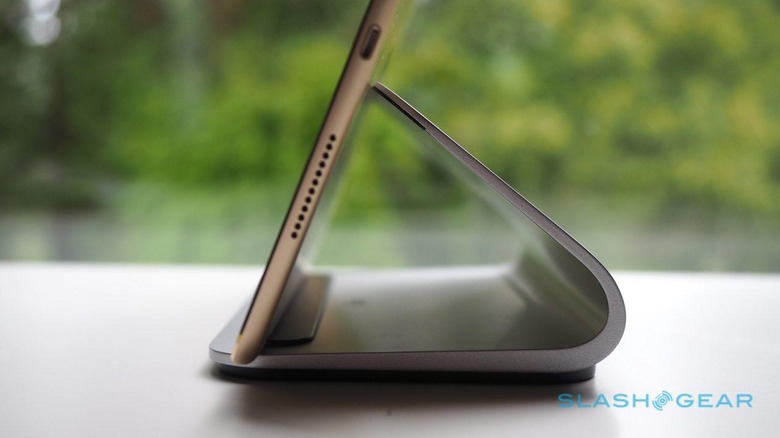 If you're anything like me, though, you usually forget – or just neglect – to plug your iPad in until the battery warning comes up. Spotting that normally coincides with being about to walk out the door or jump on a flight: times you'd really prefer not to have your tablet die on you. There, the Base stand is handy for keeping everything topped up and ready to go.
It's also handy for keeping the iPad Pro around as a secondary screen. Install AirDisplay, for instance, and you can pair the tablet up with your Mac and use it as extra desktop real-estate. Unfortunately, since the Base is only providing power, not a data connection, secondary-screen apps which support USB connections for improved performance will still require you to plug in a Lighting cable. That undermines the whole point of the stand, I feel.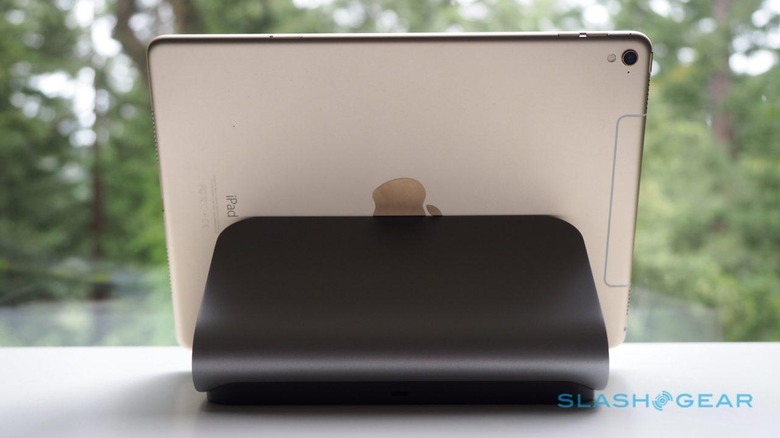 Similarly, since Apple only puts a Smart Connector on the long edge of the iPad Pro, while Logitech's stand will prop the tablet up in portrait orientation you won't get a recharge at the same time.
It's not the only design limitation. While Logitech says Base should be able to power the iPad Pro even when it's clad in one of Apple's silicone cases – third party options will vary – you can't leave the Smart Case or Smart Keyboard attached. Unlike a Bluetooth keyboard, the Smart Keyboard needs a direct connection to operate; still, if you really want to type from a distance, you can pair up Apple's Bluetooth keyboard (or, indeed, any of the various Bluetooth keyboards on the market).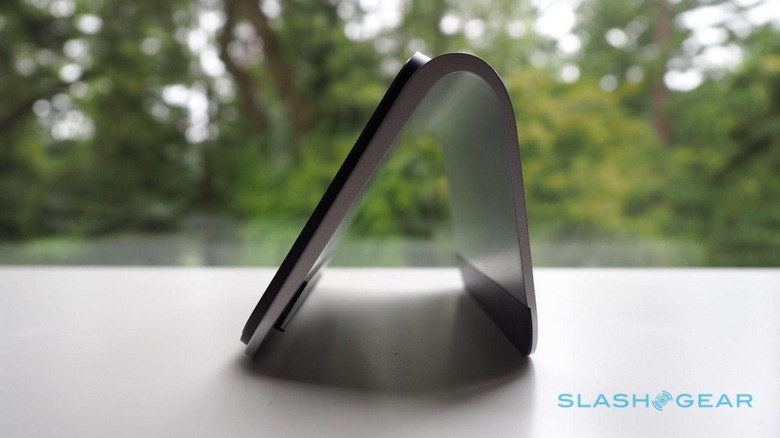 Finally, it'd be nice to be able to adjust the angle at which the tablet is held. The default 70-degrees is fine for casual video playback and typing on most surfaces, but having the ability to adjust it would make the Base far more flexible.
At $99.99, Logitech's Base certainly isn't the cheapest way to prop the iPad Pro up. If you've already got Apple's Smart Case or Smart Keyboard, indeed, both can work as a desk stand.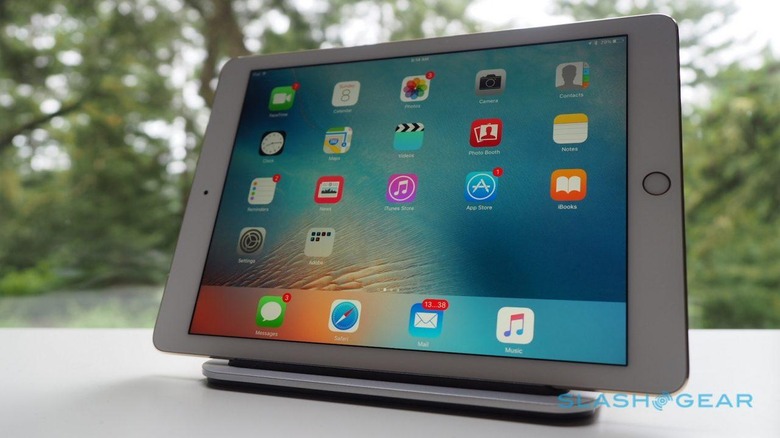 NOW READ: On the road with the iPad Pro 9.7
That, though, overlooks the charging, and there's really nothing quite like the convenience of knowing your tablet is being recharged simply by dropping it in place. My guess is that, as more third-party accessory makers get to grips with the Smart Connector, we'll see more of a range of mounts and stands, but for now Logitech's Base is a solid choice for a clean, minimalistic throne for your iPad Pro.