Livinglass captures memories in a polymer sandwich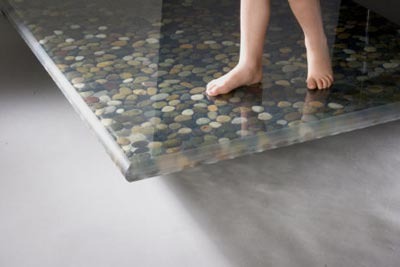 My mother has a book between the pages of which are kept all manner of pressed flowers, each one a memory from years ago.  Time of course makes them delicate and prone to crumbling; how much better would it be, then, to have them preserved in a way you could enjoy them every day?  That's what Livinglass promises, with their unique sandwiched panels containing anything from leaves, metal wires and wood to shells and petals.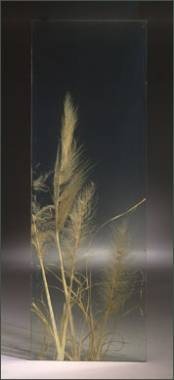 Up to 1-inch thick, each panel is custom made to your specifications and can contain pretty much anything.  Their suggested ranges cater from the nature-lover – with rose petals, pampass grass and coffee beans – to photographs and tensioned wires for the industrial-obsessed. 
Made up of two panes of glass and a polymer interlayer, the captive contents are prepared and treated to avoid deterioration and the whole thing is UV protected to avoid fading.  That unique sandwich means it's tough, too; I'm imagining individual suspended glass staircase treads, each one with a moon-sand footprint inside.
Combinations of coloured glass, multiple objects, textures and sandblasting mean no two panels are the same.  Price is, then, dependent on what you commission; I doubt it's every cheap.
Livinglass [via Apartment Therapy]