Litl Webbook gets official: "cloud" netbook for $699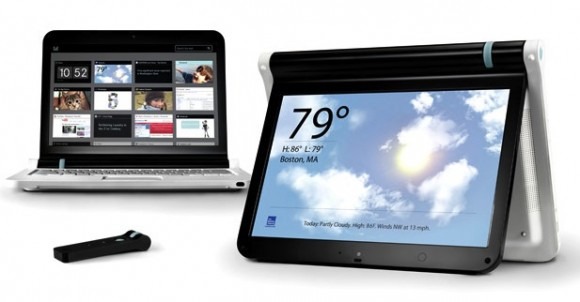 Given that most netbook press releases look like photocopies of each other, we're particularly intrigued by the
.  Spotted last week whipping through the FCC, the Webbook is described by Litl as "an internet computer for the home" and uses a home-grown always-on OS; it can be used as a standard netbook or, flipped round, as a more passive TV device with an optional remote control and "TV style" control knob.
The Webbook has a 12-inch display, Intel Atom 1.6GHz processor, 1GB of RAM, 2GB of flash storage, a GPU for accelerating H.264 video (720p is supported) and a webcam/microphone; there's no hard-drive, with storage all taken care of by the "cloud".  Patches and upgrades are automatically pushed to the Webbook by Litl, while connectivity includes WiFi b/g, headphone port, USB 2.0 and HDMI for plugging into a bigger display.
As for software, there's Flickr and Shutterfly online gallery compatibility, together with easy link-sharing from the integrated browser, streaming internet TV and a Facebook widget.  It'll be interesting to see if Litl manage to pull in their apparent target audience: would-be netbook owners who still don't want the complexity of a desktop OS squeezed into a compact notebook.  The Litl Webbook is available to order online from today, priced at $699; the optional remote control is $19.
Press Release:
All New Litl Webbook First to Blend the Best of the Web and TV-like Viewing Experience in Easy-to-Use Home Computer

Boston-Based Start-up Designs Unique Computer for Entire Family to Enjoy Always-On Web Photos, Socializing, and Communication

Boston, Mass – November 4, 2009 – Ready to hit the reset button on personal computing? A new kind of computer company, litl (litl.com), today unveiled its webbook computer and operating system – a completely new and simple way for everyone in the family to enjoy online photos and all the web has to offer. The litl webbook, an Internet computer for the home, blends the engaging content and social interactivity of the web with high-quality TV-like viewing of online photos and other digital content.

Unlike PCs that are complex, hard to maintain and designed primarily for work, the litl webbook was created with a fresh approach that makes enjoying online photos and using the web simple, enjoyable and fun.

"As everything from music and photos to email and social networking moves online, it's clear that the web is transforming personal computing. And yet, most homes are still using computers and software based on thinking from more than 30 years ago." explained litl's founder and CEO John Chuang. "We knew that to really meet the needs of home users – from kids to parents and grandparents – we needed to design an entirely new system that would make the web engaging, entertaining and fun."

According to the Pew Internet & American Life Project, 69% of Americans online use webmail services, store photos and other data online, or use software programs such as word processing applications whose functionality is located on the web. The web's convenience and flexibility are driving these users to adopt online services: 51% cited "easy and convenient", 41% cite "ease of access from any computer", and 39% cited "ease of sharing information" as major reasons. A third of this group also cited that "their data is better protected from computer failure."

Uniquely Versatile Design

When not used as a conventional laptop, the litl webbook's 12" screen and keyboard flip around its patented hinge so the computer can stand upright like an easel. With its screen exposed, the litl webbook is now ideal for passive or "lean back" web activity like enjoying photos, listening to music, or consuming news, weather, and other web content.

The litl was designed to enhance home web use like this with a bright screen featuring a revolutionary 178-degree viewing "cone". Most traditional computers are designed for a single user, but the litl's unique screen technology allows a group of people to clearly view the screen at the same time. For an even more social experience, the litl webbook also offers plug-and-play connectivity to large screen, high definition televisions by way of a convenient HDMI (High-Definition Multimedia Interface) output port.

An innovative hinge-mounted scroll wheel for changing web "channels" and an optional remote control further enhance this TV-like experience.

Enhanced Photo, Facebook, and Web Content Experience

Popular websites, particularly those with RSS (Really Simple Syndication) feeds, can already be enjoyed in the litl webbook's new "easel" viewing mode. The litl will also launch with several proprietary channels developed by the team that transform content from Flickr, Shutterfly, and Facebook in new and exciting ways:

Flickr (flickr.com) and Shutterfly (shutterfly.com) channel to organize online photo collections, conveniently display them, and simplify sharing with loved ones;

Facebook (facebook.com) channel to visually display social network updates in a fun, engaging mode.

The company has additionally worked with The Weather Channel (weather.com) to develop a channel that visually displays local weather conditions and 5-day forecasts. Technical information for independent developers, potential partners, and others interested in developing custom channels will be announced shortly.

Easy-to-Use Interface

The litl webbook makes it easy to connect and stay in touch with friends and family. Because of its unique design, content from one litl to another is automatically synched, making content available ubiquitously. This feature allows users to instantly access and share content any time, any way, and any place they desire. For example, photos of the grandkids on a litl in one house can be instantly shared with grandma using a litl at her house─even viewed instantly on her TV, without ever sending an email.

In addition, with its specially-designed user interface and browser, the litl webbook is always on, with no need to log in to an operating system or launch a browser. The litl has an interface that is extremely easy to use, eliminating cumbersome menus, folders and icons.

Maintenance-Free

While most computers require administration, upgrades, updates, downloads and backups, the new litl webbook was designed to eliminate maintenance hassles and related expenses. The litl automatically updates itself, patches security gaps, and optimizes its technical performance. With no hard drive, the leading cause of failure in traditional computers, the litl webbook will be exceptionally reliable.

Price and Availability

The litl webbook is available immediately online at litl.com. The price for the litl is $699, with an optional remote control for $19. The litl webbook includes a free two-year unconditional "satisfaction guaranteed or your money refunded" warranty─double the industry standard of one year and significantly more consumer-friendly. Customer support is always available from litl's friendly customer service team, via email at asklitl@litl.com, Twitter at twitter.com/asklitl, or phone at 800.878.0900.

About litl

Based in Boston, litl is a new kind of computer company. The company was founded to make the web more enjoyable and entertaining for everyday consumers. Small and personal by design, we invite you to meet us and learn more at litl.com.
[
NetbookChoice]