Literacy Bridge sub-$10 Audio Computer starts education trial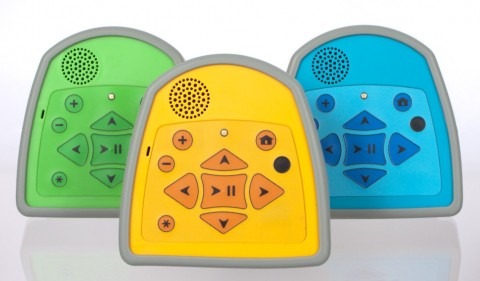 Non-profit organization Literacy Bridge have announced a pilot program of their so-called Talking Book Devices, which the company describes as a "sub-$10 audio computer".  The compact devices can be programmed with various spoken-word lessons, aimed to assist in educating people without access to formal education or electricity.
Literacy Bridge envisage the Talking Book Devices serving dual purposes: initially, they will disseminate essential, accurate information via device-to-device sharing, which in the pilot study will include disease prevention techniques and farming best practices.  Over longer periods, particularly when paired with textbooks, learners can engage in comprehension and pronunciation activities, play back lessons at various speeds, skip ahead or backwards, define vocabulary words, engage in multiple-choice style question-and-answer sessions, and access other interactive activities.
The pilot is taking place in Ghana, with an unspecified number of Talking Book Devices being distributed among school children, children who are unable to attend school, and adults looking for literacy training and applicable information on disease prevention and agriculture.  More details here.
Press Release:
Literacy Bridge Launches Pilot Program in Ghana

New technology provides children and adults with access to critical information such as farming best practices and disease prevention techniques, while helping to boost literacy skills

Seattle, WA, February 11, 2009 — After 18 months of research and development, Literacy Bridge, a non-profit organization that provides children and adults with tools for knowledge sharing and literacy learning, today announced the launch of the organization's Talking Book pilot program in northern Ghana. Literacy Bridge's Talking Book Device is a sub-$10 audio computer designed to improve literacy skills and facilitate access to information for rural people living with poverty and disease.

Through the pilot, dozens of Talking Book Devices are being tested by Ghanaian school children, children who are unable to attend school, and adults looking for literacy training and applicable information on disease prevention and agriculture. The pilot project allows Literacy Bridge volunteers, including undergraduate interns from MIT, to collect invaluable information regarding the device's usability, impact, and potential scalability. Specific objectives include:

1. Usability feedback through community discussions, interviews, and focus groups.

2. Observation of how content is shared, what content is most popular, and what content is created by users.

3. Collaboration with local health and agriculture officers, including representatives from the Ministry of Food and Agriculture (MOFA), Ghana Education Services (GES) and the Ghana Health Service (GHS) on development and dissemination of crucial information.

4. Collaboration with local school systems to build lesson plans that maximize the device's impact in the classroom.

Talking Book Devices are designed with both short-term and long-term goals in mind. They immediately serve as mechanisms for the rapid and free distribution of essential, accurate information via device-to-device sharing. Disease prevention techniques and farming best practices are available during the pilot, and Literacy Bridge continues to partner with representatives from rural MOFA agricultural field offices and GHS clinics, as well as other government and non-governmental organizations, to develop additional content.

"With the Talking Book Device, my staff can help even more farming families," said Allhasah M. Kuzie, director of the Jirapa district office of the Ministry of Food and Agriculture. "Our talks on improving their agricultural productivity can be recorded and later made available to people who could not attend or who have forgotten some of the details. We are excited to partner with Literacy Bridge, and we believe that together we will help many people improve their lives."

Talking Book Devices also facilitate literacy learning over time, with cumulative benefits. When paired with textbooks, learners can engage in comprehension and pronunciation activities, play back lessons at various speeds, skip ahead or backwards, define vocabulary words, engage in multiple-choice style question-and-answer sessions, and other interactive activities. The Talking Book Devices enable students and parents to practice reading skills in the absence of an educator or as a complement to formal education.

"The success and introduction of this project in the Jirapa district of the Ghana Education Service will go a long way to enhance effective lesson delivery and learning objectives," said Martin Bayor, district director of education in Ghana. "It will bring about high productivity and will help to reduce illiteracy."

Call for Donations

Literacy Bridge is staffed entirely by volunteers. All of the organization's efforts, including research and development for the Talking Book Device, have been funded through private donations. The organization is seeking additional donors, partners, and foundation funding. Further information is available online at http://literacybridge.org/donate.

About Literacy Bridge

Literacy Bridge is a nonprofit organization which empowers children and adults with affordable tools for knowledge sharing and literacy learning as an effective means towards advancing education, health, economic development, democracy and human rights. To meet these objectives, the organization has developed the Talking Book Device, a low cost digital audio player and recorder for people in the developing world to gain access to information. Literacy Bridge collaborates with local governments and NGOs to develop locally relevant content. For more information please visit http://literacybridge.org/