Liquavista displays one step closer to market with dev kit [Video]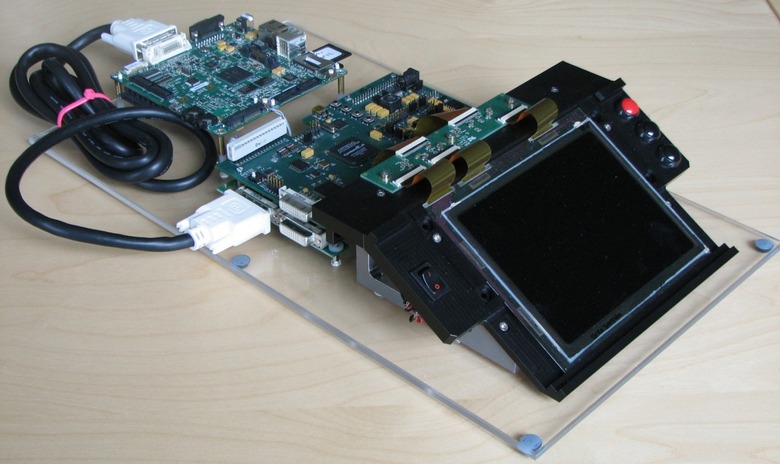 It make look like a bunch of PC parts bolted to a strip of plexiglass, but you're actually looking at one of Liquavista's System Development Kits.  Intended to get potential Liquavista customers up to speed on the company's electrowetting display technology, the kit will be available with either a 6-inch LiquavistaBright monochrome panel or a 6-inch LiquavistaColor color display, ahead of broad commercial availability this year or in 2011.Video demo after the cut
In addition to the display, the SDKs include all the necessary driving components, the mobile application processor host platform (in this case a Freescale iMX5x) and a special Linux-based OS.  Unlike E Ink panels, the Liquavista displays can show full video and smooth, refresh-free browsing.
What the company still aren't telling us is exactly how much longer our gadgets could last with a Liquavista panel rather than traditional LCD.  "Dramatically less" isn't quite specific enough for our liking, frankly.
Press Release:
Liquavista launches Display kits to enable customers to develop application & designs

Available in both LiquavistaBright and LiquavistaColor electrowetting displays

24 March 2010 – Eindhoven – Liquavista today announced the launch of System Development Kits aimed at enabling their core customers to work on developing products based on their innovative electrowetting display technology. Available for both LiquavistaBright 6" mono and LiquavistaColor 6" color electrowetting displays, customers will be able to create applications and therefore products that benefit from the features of Liquavista's unique display technology.

"These new SDK's are designed to enable customers to take their Liquavista experience directly to their products" stated Guy Demuynck, Liquavista CEO. "This enables them to try out and extend their existing products to take advantage of the our technology's ability to enable dynamic, interactive products, capable of supporting all types of content, including multimedia applications and video capability, without compromising ultra low power usage and sunlight readability."

"We've developed these SDK's to include a full driving circuitry, mobile application processor and the display to bring a complete package that reflects a typical mobile based product application" added Eric Derckx, Liquavista's VP Engineering. "This will enable product designers to evaluate our displays in a real world environment utilising the best of our technology with their own applications."

"This is the continuation of our strategy to enable a revolution in product features and usability based on our electrowetting displays" stated Guy Demuynck "Consumers will soon be able to experience what we have termed 'LCD2.0' for themselves and be able to buy products that have all of the natural interactivity and autonomy that consumers are currently missing."

The System Development Kits are currently available to customers to help them drive their concept development projects and enable new product innovation. Available in two of Liquavista's launched product platforms, LiquavistaBright and LiquavistaColor, each SDK includes a 6" electrowetting display, driving circuitry, mobile application processor host platform as well as a Linux based operating system.

Liquavista's high performance display technology has intrinsic high-speed video capability which will vastly expand the functionality and user experience and enables the next generation of mobile devices. It plays video, allows smooth browsing and provides a true multimedia experience not currently available in low powered outdoor readable displays.

Liquavista's electrowetting display technology has been developed to be compatible with existing display manufacturing techniques and processes. In fact, more than 90% of the manufacturing cycle uses standard LCD manufacturing equipment and processes. Called LCD 2.0, this enables our partners to quickly re-use their manufacturing assets to our displays and bring exciting, highly differentiated products to life with both enhanced usability and performance.

Liquavista are developing three technology platforms, LiquavistaBright™, LiquavistaColor™ and LiquavistaVivid™) planned for product implementation throughout 2010/2011.

About Liquavista – www.liquavista.com

Liquavista offers a new type of electronic screen technology that will change the way we interact with mobile phones, media players, electronic readers and other mobile devices. Liquavista's displays create bright and colourful images that ensure excellent indoor and outdoor viewability and use dramatically less battery power. Users can engage with their favourite applications for longer before a recharge is necessary and battery sizes can be reduced allowing devices to be thinner and lighter.

The company's ultimate vision is to build on the extraordinary optical performance and unique power efficiency of its technology to lead a green revolution in low power displays for notebook PCs, desktop monitors and televisions.

Liquavista was founded in 2006 as a spin-out from the world famous Philips Research Labs in Eindhoven. The company is backed by Amadeus Capital, GIMV, Applied Materials and Prime Technology Ventures. It is headquartered in Eindhoven, The Netherlands.