Linksys WRT32X WiFi gaming router packs in Killer Prioritization Engine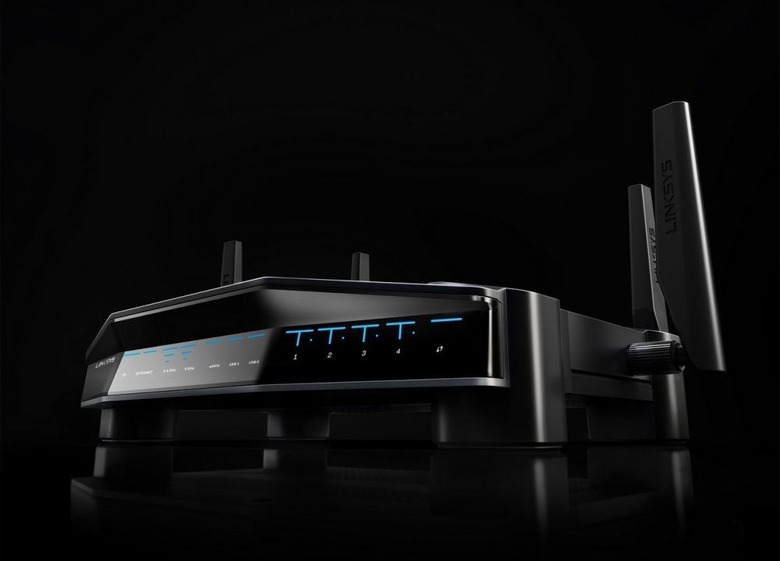 Linksys came to CES 2017 with a few different routers in tow, one of which being its new WRT32X WiFi gaming router. If the phrase "gaming router" elicits an eye-roll, you're probably not alone, but there may be reason for gamers to consider this router over others. Linksys has teamed with Rivet Networks to make this the first router that features the Killer Prioritization Engine.
Killer will probably be a familiar name to anyone who counts themselves among the enthusiast PC crowd. How the Killer Prioritization Engine will work within the router itself seems pretty straightforward: it will optimize traffic to give your PC and the games you're playing priority over other devices that may be connected to your network. The idea is that this will keep latency low, removing any internet-based worries while you're playing a competitive game.
Though your PC is given priority when it comes to network traffic, the Killer Engine manages other traffic as well to make sure that other devices on the network don't suffer from a lag-laden connection. One thing to note is that you'll need a Killer-optimized PC to get the most out of this router. That may not be much of an issue for many gamers because, as Linksys WRT product manager Vince De Luca points out, many high end rigs already support Killer networking products.
The router itself has a 1.8 GHz Dual-Core ARM CPU running under the hood. You're working with AC3200 MU-MIMO in terms of WiFi technology, and its simultaneous dual-band supports both the 2.4GHz and 5GHz bands. Supported network standards include 802.11a/g, 802.11n, and 802.11ac. You also have one Gigabit WAN port, four Gigabit LAN ports, one USB 3.0 port, and one eSATA/USB 2.0 port at your disposal.
Though Linksys is showing off the WRT32X this week at CES 2017, it won't be ready to launch until spring. A more specific release date isn't available yet, but we do know how much it'll cost: $299.99. Be sure to have a look at our CES 2017 hub to see all of our coverage from the show.