Linksys Velop aims to steal Google WiFi's mesh crown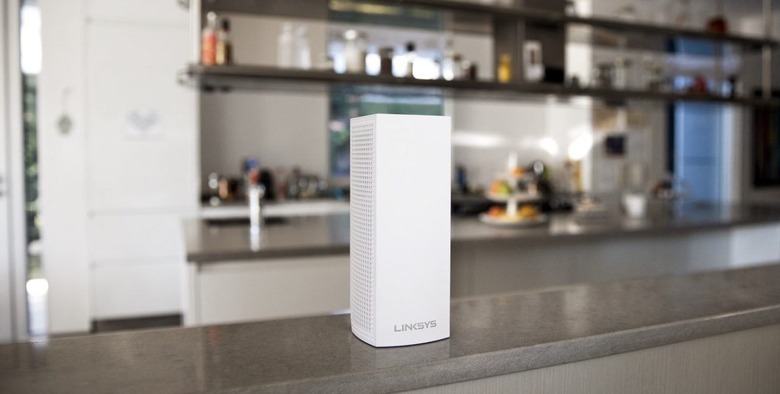 Linksys has joined the mesh networking club, launching Velop, a multi-unit WiFi router system at CES 2017 this week. Aiming to blanket your home in wireless coverage, each of the Velop units – a white, 7-inch tall monolith – interconnects with each other, forming a mesh of connectivity. Meanwhile, there's the promise of automatic firmware updates should security loopholes be spotted down the line.
Ease of installation is high on Velop's agenda. That's done through the companion Linksys app, which has been redesigned from previous iterations. It relies on a Bluetooth connection between your phone and the Velop hardware, and then offers features like sending the WiFi credentials to a contact, prioritizing certain devices, or blocking other devices like a console outside of particular hours.
Linksys finds itself fairly late to the mesh networking segment, mind. Best-known of the bunch is probably eero, but Google WiFi landed with a splash a couple of months ago, boasting higher performance figures in our testing than its rival. Netgear's Orbi gets high ratings, too.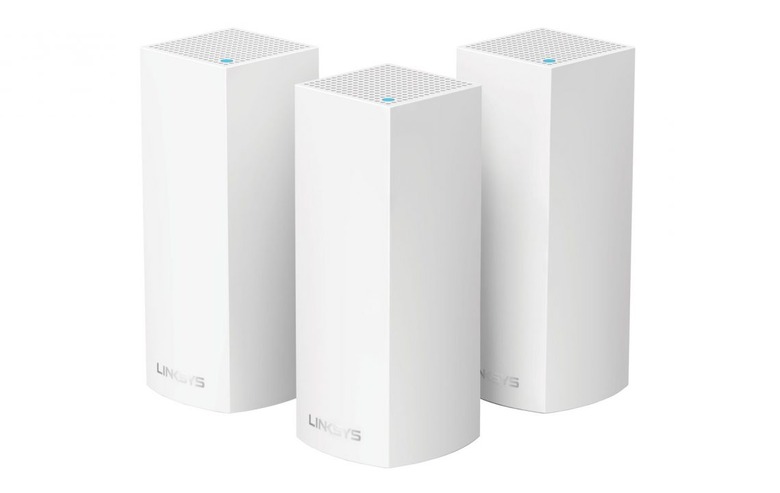 According to Linksys, Velop's secret weapon is just how many radios it squeezes inside. Each of the routers is Tri-Band AC2200, using a Qualcomm SoC with a 716 MHz quad core ARM Cortex-A7 processor, three WiFi radios – one 2.4 GHz and two 5.0 GHz – and two LAN/WAN ports. Also onboard is 4GB of flash memory, 512MB of DDR3 memory, Bluetooth 4.0, and six antennas.
Altogether, the three radios can be used in MU-MIMO setup for up to 2,200 Mbps, at least theoretically. There's automatic channel-selection, and the app guides users through placement during setup, but Velop also promises to improve throughput even after multiple "hops" since it can dedicate one 5 GHz to inter-router communication and still have one to focus on connecting to clients.
Will it work? We'll have to wait and see until the first tests emerge to find out, though the theory seems sound. Velop also supports extending the mesh via ethernet, and if any of the routers goes offline, those remaining will try to reestablish a connection via a different route.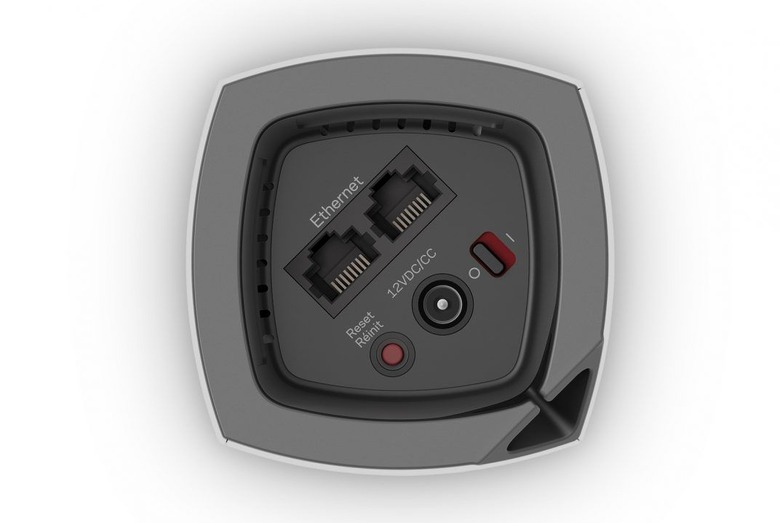 As for tidbits, there's Amazon Alexa integration – sadly you can't speak to Velop like an Echo, but you can ask your existing Echo to turn the guest network on or off, or ask for the WiFi credentials to be read out – plus the two WAN/LAN ports on each unit can be used either to hook up to your cable modem or to attach wired devices to your network. Each Velop promises 2,000 square feet of range.
NOW READ: Google WiFi Review
Linksys Velop goes up for preorder today, and should begin shipping on January 15, 2017. It's priced at $199.99 for a single unit, $349.99 for a pack of two, or finally $499.99 for a pack of three.