Linksys E4200 is new dual-band flagship router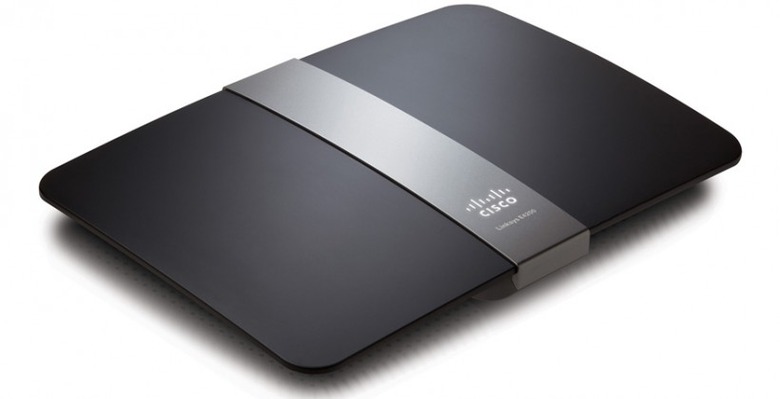 Cisco has outed its latest flagship home router, the Linksys E4200, a simultaneous dual-band model supporting concurrent 2.4GHz and 5GHz use. The E4200 has four gigabit ports, plus a 3x3 antenna array for six in total, all internal so that the router doesn't resemble a hedgehog.
There's also a USB port for hooking up external storage or a printer and sharing that with the network, together with an on-board UPnP server for streamed music. Come the spring, Cisco expect to add IPv6 support to the E4200 too.
The Linksys E4200 is available now from Best Buy and Linksys direct, priced at $179.99; it'll be available through other channels later in the year. All well and good, but with the number of network-ready devices proliferating, when are we going to see a home router with more than just four gigabit ethernet ports?
Press Release:
Cisco Supercharges Home Networking with New Linksys Maximum Performance Wireless Router

New Linksys E4200 Dual-Band Router with Innovative Design Gives Consumers the Speed and Range for the Ultimate Wireless Entertainment Experience

San Francisco, CA – Cisco today unveiled its best-in-class wireless home router – the Linksys® E4200 Maximum Performance Dual-Band Wireless-N Router. Designed for optimum home theater performance, the E4200 works seamlessly with the latest entertainment devices, including Internet TVs, iPad tablets, game consoles, smart phones, e-readers, and VoIP devices. This new router not only helps boost performance and range in the home, it provides industry-leading speed of up to 450 Mbps* for smooth streaming of video and music and uninterrupted gaming.

Building on the decade of leadership and innovation from Linksys, this latest state of the art router features simultaneous dual-band wireless-N, four gigabit ports, and a 3x3 antenna configuration that help give it unparalleled speed and range. Additionally, a combination of internal and external amplifiers coupled with six antennas help increase the signal strength across greater distances, providing improved home network coverage and reducing dead spots. The E4200 also features a next-generation industrial design that combines sleek contours with advanced functionality.

"Cisco's Linksys line continues to lead the industry with innovative technology for the growing number of wireless-enabled homes", said Simon Fleming-Wood, vice president of marketing, Cisco Consumer Products. "The new Linksys E4200 router is ideal for home entertainment enthusiasts who want to equip their homes with the latest wireless technology or anyone who wants the reassurance of outfitting their home with the best router on the market today."

The research firm, IDC reports that worldwide shipments of wireless-N routers are expected to grow 158% from 2010 – 2014 and the number of household with multimedia networks will grow 103% over the same time period. (IDC, Worldwide Home Networking 2010-2014 Forecast Update, Doc.# 225479, Nov. 2010) These growth projections emphasize the need for high performance routers like the Linksys E4200 that will provide the speed and range connectivity throughout the home.

New Features for Storage, Sharing, and Simple Setup

The E4200's new USB feature makes it easy to add external storage to the network and since it is an UPnP Media server as well, consumers can easily store, share and stream movies, music and games to other devices around the home. The USB port also has plans for converting to a Virtual USB port which will also enable printers to easily connect to the network so all users in the home can print wirelessly. The included Cisco Connect software continues to provide simple three-step setup and network management tools such as parental controls and guest access.

Product Details

Performance:

· Maximum performance of up to 300 Mbps (2.4) and up to 450 Mbps (5.0GHz)*

· Simultaneous dual-band (2.4 and 5.0 GHz) with four 10/100/100 gigabit ports

· 3X3 internal MIMO special stream configuration on the 5.0 Ghz band for ideal performance for streaming HD videos, gaming and voice

· Internal and external amplifiers for maximum speed at greater distances for added in-home mobility

· Six antennas for maximum range

Features:

· Quality of Service (QoS) for prioritizing bandwidth for movies, voice or music

· UPnP media server for adding on storage to serve your Internet-enabled TVs or media server PCs

· USB port for easily adding external storage drives

· New design

Software:

· Advanced security: WPA and WPA2 and Stateful Packet Inspection (SPI) Firewall

· Plans to support IPv6 in the spring

· Cisco Connect software for enabling simple setup, network management tools (parental controls, guest access) and optional advanced settings

Pricing and Availability:

The Linksys E4200 Maximum Performance Dual-Band Wireless-N Router is immediately available for an MSRP of $179.99 at Best Buy, Best Buy.com and the Linksys store at http://homestore.cisco.com. The E4200 will roll out to other retail and online retailers over the next few months.

For more information about Linksys and the E4200, please visit: http://home.cisco.com/4200