Line 6 Relay G30 Digital Wireless guitar system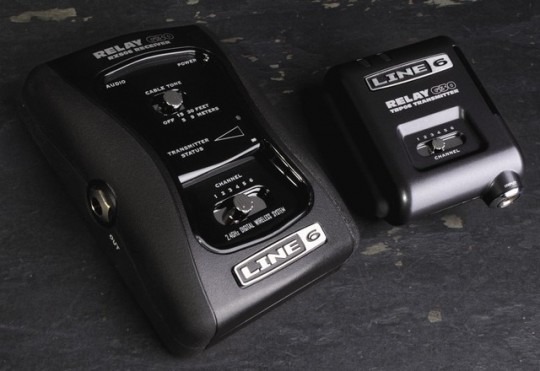 Line 6  have announced a new wireless guitar system that, they claim, "redefines the wireless experience."  The Line 6 Relay G30 Digital Wireless System consists of a compact transmitter with standard 1/4-inch input and six user-selectable channels, together with a receiver good for up to 30m range.
According to Line 6, the Relay G30 lacks any frequency roll-off and has a frequency response range of 10Hz to 20kHz and dynamic range of 118dB.  Rather than using a UHF analog transmitter, as with rival systems, the Relay G30 uses the 2.4GHz digital band with signal protection for preventing overlap.
Up to six systems can be used concurrently – each tuned to a different channel – meaning unless you've got a ridiculously large band you should be able to all go wireless at the same time.  The Line 6 Relay G30 is approved for use in Europe, South America, Asia and Australia, and will begin shipping in August priced at £286.35 ($468).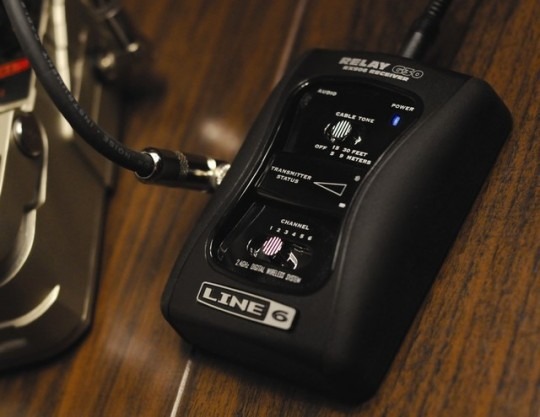 Press Release:
LINE 6 ANNOUNCES NEW RELAY™ G30 DIGITAL WIRELESS SYSTEM FOR GUITARS

—Superior sound, professional dependability and total simplicity—

DAVENTRY, England—15th July 2009—Line 6, Inc. the industry leader in digital modeling technology for music creation products, today announces the new Relay™ G30 Digital Wireless System for guitars, the debut system from its forth-coming brand of digital wireless systems for guitar and bass.

The concept of wireless is extremely attractive, but in the past, the reality has been a series of compromises: altered tone, increased noise and problems with interference. As a result, many musicians resist wireless. What if all of those problems just disappeared? What if wireless rivalled the performance of a cable – without the wires? The new Relay G30 redefines the wireless experience, delivering superior sound, professional dependability and total simplicity.

Relay G30 delivers exceptional sound with its high-end sparkle and low-end punch exposing the sonic limitations of traditional analogue wireless systems. Free of any frequency roll-off, Relay G30 boasts a broad frequency response of 10Hz – 20kHz, and a dynamic range of 118 dB, at ranges of up to 30 metres, which is ideal for gigs, or simply for jamming with friends.

Built to a professional standard, Relay G30 offers unequalled dependability. It avoids many kinds of signal interference by broadcasting over the 2.4GHz band, plus it employs exclusive signal protection technology for an additional layer of defence. Traditional wireless systems broadcast over congested UHF bands, and their signals may be forced to compete with interference generated by devices as far away as 160 kilometres, or more.

Lightweight, low-profile and easy to use, Relay G30 delivers a simple but sophisticated experience. The system features 1/4-inch inputs and outputs, sets of bright LEDs that display power, status and battery life, and includes everything the user needs to get started.

"Relay G30 is the professional solution that wireless guitarists have been waiting for," remarks Don Boomer, Line 6 product line manager. "Relay products have the ability to match the frequency response of a typical guitar cable and provide superior dynamic range compared to most analogue wireless systems—all while providing wireless freedom to musicians."

Relay G30 is approved for use in Europe, South America, Asia and Australia, and is expected to ship in August with a UK MSRP of £286.35 inc. VAT.

For further information and a full list of retailers visit: www.line6.co.uk