Lincoln MKC Concept looks to crossover to rescue brand

Lincoln isn't relying solely on a name change to turn around its fortunes; the car company has whipped the wraps off of its new MKC Concept, a compact luxury crossover it hopes will find it some buyers in the premium SUV category. Bold lines and the company's distinctive grille are accompanied by frameless windows and some impressive 20-inch wheels, while inside there's lashings of leather and up-to-the-minute driving controls.
Lincoln's target is both those drivers looking to step up to their first luxury car, and those stepping down in size but not wanting to sacrifice comfort on the move. For that audience, the MKC Concept borrows cues from previous Lincoln cars but also throws in some new material of its own; the rear tailgate, for instance, wraps around the edges of the car, so that the MKC's designers could splay the lights right across without a cutline.
A fixed panoramic roof keeps things airy inside – helped by the white leather, which continues up the pillars, the door trip uppers, edges of the console, and even parts of the cargo area – while wood has been treated with metallic flake for a Twilight-effect sparkle. Chrome features on the speaker grilles and the air vents, while there's crimson highlight-stitching on the seats.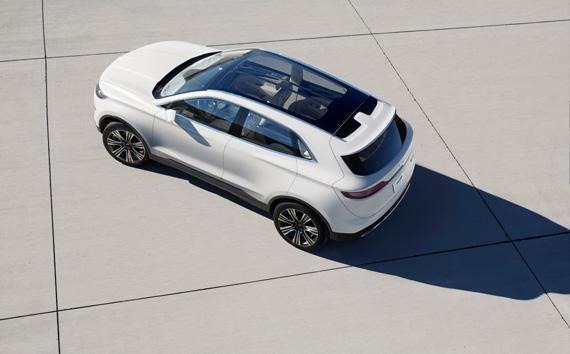 Right now, Lincoln is maintaining that the MKC Concept is just that – a concept – with no word of a potential release date. With the luxury SUV billed as "a vision of how Lincoln will enter the industry's fastest-growing small luxury utility segment" and a push into the four highest-growth segments with new models over the next four years, however, we wouldn't be surprised to see the MKC in showrooms soon.