Limited edition gold PS4 bundle brings the bling via Taco Bell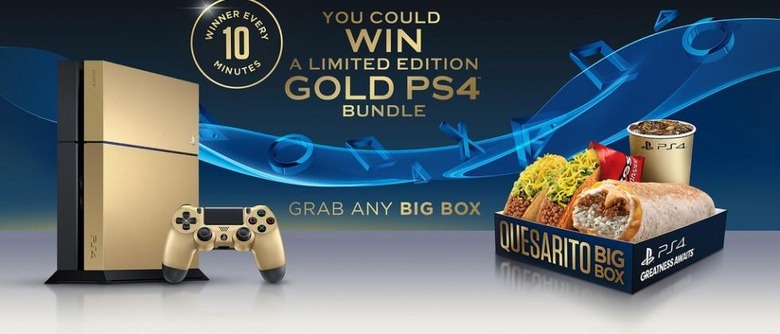 Jealous of the new colored PlayStation 4 accessories announced at the Tokyo Game Show this week? Well, Sony hasn't forgotten about US gamers, as they've just announced a special limited edition PS4 bundle that bundle that includes a gold console and controller. Along with the special colored hardware, the bundle includes a one-year subscription to PlayStation Plus, needed for online multiplayer gaming and other special features, along with a copy of the new Uncharted: The Nathan Drake Collection game.
The only way fans can get their hands on the limited edition gold bundle is by a promotion running through US Taco Bell locations. The contest starts September 24th and runs through November 4th, with Sony promising a winner every 10 minutes, meaning roughly 6,000 gold PS4s will be given away during the period.
To enter, hungry gamers just need to visit a participating Taco Bell fast food location and purchase a Big Box, itself a bundle of a meal including tacos, burritos, and a drink. The official rules and details state that each Big Box will come with a code that contestants can text to a number to find out if they're a winner.
The gold DualShock 4 controller from the bundle appears to be exactly the same as one of the four new colors that Sony announced at Tokyo Game Show. The upper half is gold while the bottom remains a classic black, and the PS4 console seems to feature the same color layout.
SOURCE PlayStation Blog / Official Rules