Lime Green PSP in the works?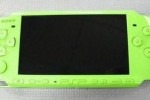 If you want to add a little color to your HP MediaSmart mobile viewing experience, you can look into getting a Lime Green PSP to view those completely legal and unlocked DVD rips on the go.
How many PSP users would actually buy this? I think the range of video game console colors should really exclude lime-or-neon-anything. This just makes it more difficult for kids to play it in the back of the classroom instead of paying attention.
It looks like it might just be a prototype, and there's no word on potential release dates, or even if Sony plans on letting it see the light of day, but it's an interesting color choice for a PSP. It matches the neon green of Mountain Dew for those gamers who like to accessorize. Other than that, your sister might like it to go with her Lacoste Polos.
[Via UberGizmo]