LightSail 2 Spacecraft Successfully Deploys Solar Sail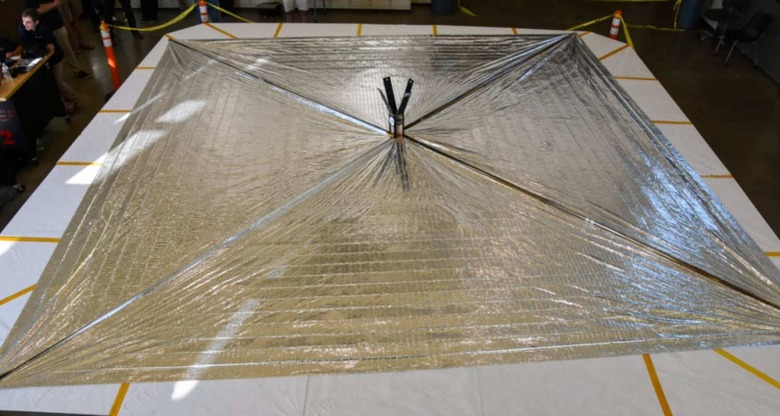 The LightSail 2 solar spacecraft has successfully deployed its solar sail, the team at the Planetary Society has announced. Plans to deploy the solar sail today were first revealed on July 19, during which time the team explained that a pass of the spacecraft within range of its Kauai Community College ground station would give flight controllers a final chance to evaluate the LightSail 2's status. In an update today, the team revealed that all signs point toward a successful deployment.
The LightSail 2 is a spacecraft equipped with a solar sail designed to propel the vessel in low Earth orbit using sunlight. The spacecraft was launched on June 25 as what may end up being the first of its kind — a demonstrator that establishes solar power as a viable way to power CubeSats.
LightSail 2 features eight 4.2v batteries and can be monitored by anyone in real-time via the newly released 'mission dashboard' website. Following work performed yesterday in preparation for today's event, the team behind LightSail 2 announced around 3PM ET on Tuesday, July 23, that 'all indications' point toward a successful deployment of the spacecraft's solar sail.
The command to deploy the sail was sent to the spacecraft at around 2:45PM ET, after which point telemetry data on the vessel's motor showed an increase as expected for the deployment followed by the motor halting at the expected time.
Cameras located on the spacecraft were used to capture imagery of the event. According to a tweet from the Planetary Society, the team will start downlinking the images to confirm the deployment. In its most recent update about that, the team explained:
LightSail 2 did not rise far above the horizon, and communications performance with the spacecraft was lower than previous passes, possibly due to the orientation of the spacecraft during the pass and the presence of the newly deployed solar sail. The team was not able to download image thumbnails and will try again tomorrow [on July 24].