LightSail 2 mission dashboard shows public solar spacecraft's status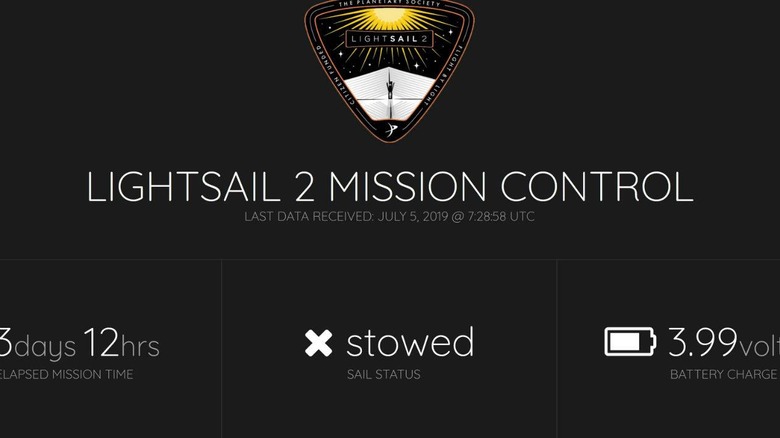 LightSail 2, the spacecraft launched as part of the crowdfunded solar sail project called LightSail, was the subject of an update from the Planetary Society today. According to the team behind the project, the public now has direct access to the latest data from the spacecraft via its newly launched mission control dashboard. With this site, anyone can see the LightSail 2's status, location and more.
The LightSail 2 spacecraft transmits information equivalent to 334 lines of a text file every few seconds, according to the Planetary Society. This information provides the spacecraft's current status, including its battery levels, temperatures, and its current rotation. The information is now automatically presented for the public on the project's mission control website.
It's a fun glimpse of the spacecraft for casual enthusiasts but could be a solid data source for amateur scientists. Users are able to download the full telemetry data archive via the mission control website's 'Download Recent Data" link. The Planetary Society explains what each section of the website means here, though much of it is self-explanatory.
The 'Battery charge' section, for example, lists the average charge of the spacecraft's eight 4.2v batteries, while the 'Sail status' section shows whether LightSail 2's solar sail is currently deployed or stowed away. A map on the mission control website also shows over which part of Earth the spacecraft is currently located.
Not familiar with the project? LightSail 2 launched on June 25 into Earth orbit where it will, the team hopes, become the first spacecraft propelled in this orbit solely via sunlight. The spacecraft's orbit will be raised over time, and if everything goes according to plan, it may demonstrate solar power as a viable solution for powering CubeSats.