LIFT Sky-Car Public & Personal Transportation Concept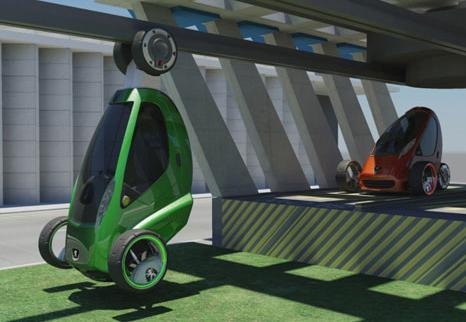 Here's clever for you: if you're a city designer of the future, how do you balance residents' desires to have their own private vehicles, which they can drive themselves, with your own desire for the sweeping cable-car and monorail tracks that no 22nd Century urban metropolis should be without?  The answer could be Roberto Vackflores' LIFT concept, individual autopods that can selectively hook onto overhead tracks.
The benefit is that common journeys will be faster, as a computer can control the clustered LIFT cars and prevent traffic jams and accidents caused by overcrowded roads. Unlike current public transportation systems, however, vehicle owners would be able to make journeys to places not served by mainstream public links.
Of course, this is just a concept, and would require huge changes in not only infrastructure but public attitude. If, however, cities currently experimenting with congestion charging started offering free entry to those owners driving vehicles like LIFT that could be a significant motivator; you only have to look at the soaring adoption rates of electric cars in London after they were made congestion charge exempt.
[via core77]