LifeProof iPhone 4/4S case and NUUD iPad case hands-on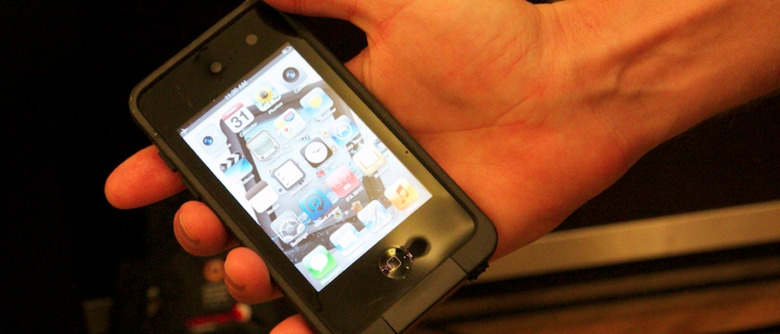 The folks at LifeProof have given us a hands-on experience with their iPhone 4/4S case lineup as well as their new NUUD iPad case. The iPhone case we're finding is so thin that it appears that there's no cover over the front – and yet there is. The iPad case allow you to dunk your device underwater – and the iPhone case does this as well. Basically what we've seen is that LifeProof iPhone and iPad cases make their contents impervious to damage – have a peek at how tough they are right this minute!
The LifeProof NUUD iPad case works with each of the 2 newer iPad models out on the market and protects with IP-68 and Military Standards to make sure your device will be protected like no other. For water you're able to submerge the device fully up to 6.6 feet under the surface for 30 minutes. The case is sealed from dirt and minute dust particles at an IP-68 rating – the same is true of its rating against melting snow and ice. This case also protects your iPad against shock with the ability to withstand drops from up to 4 feet.
This unit allows you access to all of your buttons including volume, screen lock, power button, home button, and your dock connector as well. This case also has large speaker ports so you're good to go with the beats, and you're working with CrystalClear double AR coated real glass lens as well for high quality images. This unit weights in at 310 grams, 9.97 ounces, and is the following dimensions: 265 x 208 x 20.5 millimeters (10.43 x 8.18 x 0.81 inches). You'll be able to pick this unit up now online at LifeProof's store for $149.99 – there's a cover+stand unit for this case as well for $29.99 more.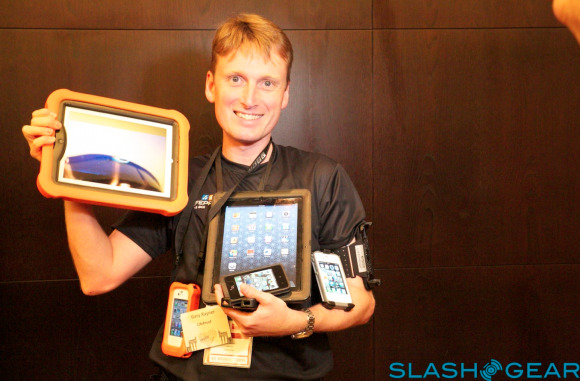 The iPhone 4/4S case is also shown off here complete with IP-68 rating against water and dust. It's got Military Specifications MIL-STD-810F-516.5 (2 meters/6.6ft drop on all surfaces and edges. 26 tests) for shock and impact, and it's ready for 2 meters of water – 6.6ft depth as well. This unit weighs in at less than an ounce and is made to work with all iPhone 4 and 4S models all around the world and for every carrier. It adds just 1/16" (1.5mm) when measured from the center of the phone when you've got it on your device, and again you've got fabulous double AR-coated optical glass lenses in place to make for the great crystal-clear vision.
The iPhone 4/4S unit is $79.99 and comes in a wide variety of colors and is also ready for purchase right this minute. In our talk with LifeProof they let us know that they're prepared for the next-generation iPhone (still code-named iPhone 5) already and are planning on working with the Samsung Galaxy S IV as well when it's eventually announced. They've also got cases coming for other Apple and Android cases including the iPod touch – expect great things from LifeProof now and in the future too!