Libratone Live and Lounge AirPlay speakers comes to the US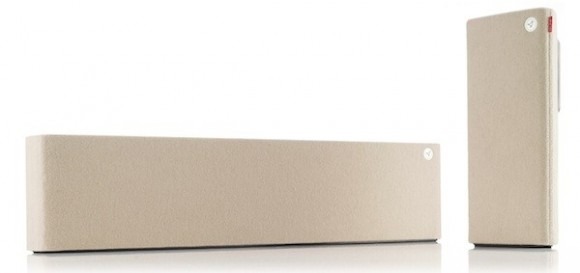 Libratone introduced its Live and Lounge AirPlay-equipped speakers earlier this summer, but has finally announced today the availability of the speakers in the US. The high-end wireless speakers feature a sleek and simple design fully covered with soft Italian cashmere in a variety of colors. Equipped with AirPlay, they can stream music from iPads, iPhones, and iPod touch devices as well as songs via iTunes on Macs and PCs.
The Libratone Lounge is the larger of the two, meant to be used in the living room and includes a 3.5mm input for other devices. It measures about 40-inches wide, 8.7-inches tall, and 4.7-inches deep and is designed to be placed against a wall. The smaller more versatile Libratone Live measures 18.5-inch tall, 7.7-inches wide, and 6-inches deep and is designed to be placed vertically freestanding on a surface.
Both feature high-end acoustics and carefully selected materials, which are reflected in the pricing. The Libratone Lounge is priced at $1,299 and is available in Slate Gray, Blueberry Black, and Vanilla Beige. The Libratone Live is $699 and is available in gray, black, and beige along with a chrome handle for easy portability. Both speakers also come in green and red cashmere premium versions for an additional $100.
[via Engadget]