LG's sexy Tablet PC is reviewed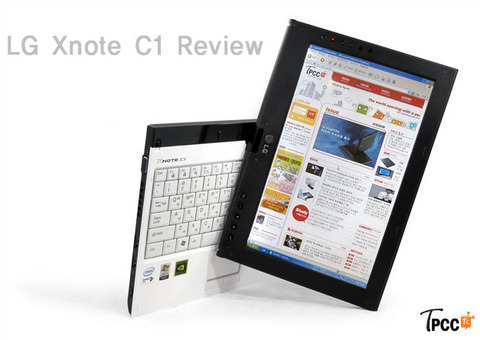 Now I don't know how good your language skills are, but mine run out long before we get to reading Korean.  Still, I can enjoy a pretty picture as well as the next person (as long as I've got my glasses on, anyway) so this review of the LG Xnote C1 Tablet PC by TabletPC Club isn't entirely wasted on me.
LG have really made use of this season's must-have finish – high-gloss piano black – and made a slim, sexy convertible.  I mean, compare this to Lenovo's, HP's and Toshiba's; they're not exactly drool-inducing, unless various shades of grey and black float your boat.  From what I can tell by the photos, the C1 has slots for CF, SD and Memory Stick, three USB ports, ethernet and modem, VGA-out and external volume controls.  It also looks like there are spaces for a SIM card to go, indicating some form of cellular connectivity on-board; EVDO perhaps?  Maybe someone who can actually read Korean can tell us in the comments...
TabletPC Club [via GottaBeMobile]