LG's new 2015 4K OLED price leaked, and it's expensive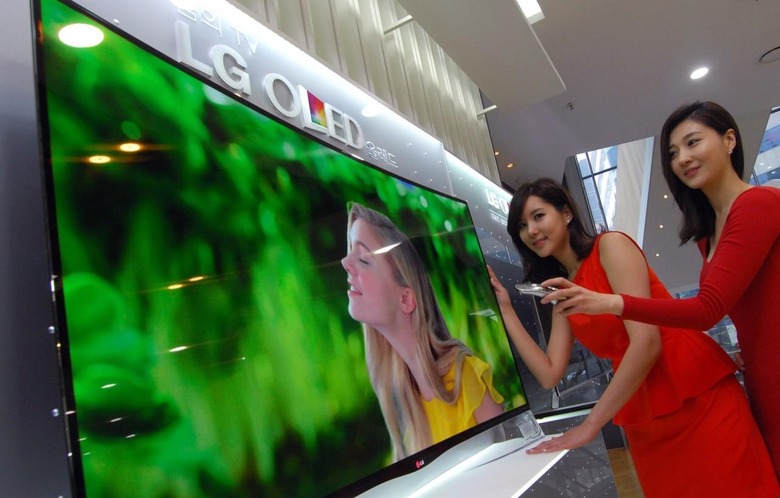 Early adopters are no stranger to the high cost of of innovation. LG's new OLED TV line sets it apart from the competition, at a price. OLED is the latest in TV screen technology, and like all top of the line tech it may cost a pretty penny. LG has yet to release its official pricing, so we were surprised when it was revealed that two New York retailers have the same models listed at the same price. Surely they didn't pull the prices from thin air.
The 55-inch flat model 55EF9600 is speculated to cost $4,999 USD, while the curved model 55EG9600 may cost $500 USD more at $5,499 USD. The largest of these LG OLED TV's listed is the 77-inch TV which is only available in the curved model 77EG9700. This has been leaked to retail at $24,999 USD. This means that for the smallest, 55-inch television, you're paying $2000 USD more just for the new OLED technology.
The TV's are listed to be available at these vendors on March 9th, but when questioned by phone the vendor rep said it would take three to four weeks. So the early list date may just be wishful thinking on behalf of the retailer.
LG just went public with their 2015 TV lineup in Seoul. Their OLED TV's follow a new ABCD concept that sets them apart from the competition. ABCD stands for their latest approach towards angle, black, color, and design. The angle of the viewer shouldn't compromise the picture quality, and LG has proprietary technology for exceptional blacks and colors. The design of all 2015 LG TV's is exceedingly slim. They are trying to pave the way for making a television as slim as possible without losing quality, which of course 2015 buyers will pay for at a premium.
Source: CNET