LG's cylindrical SmartThinQ Hub has its own LCD display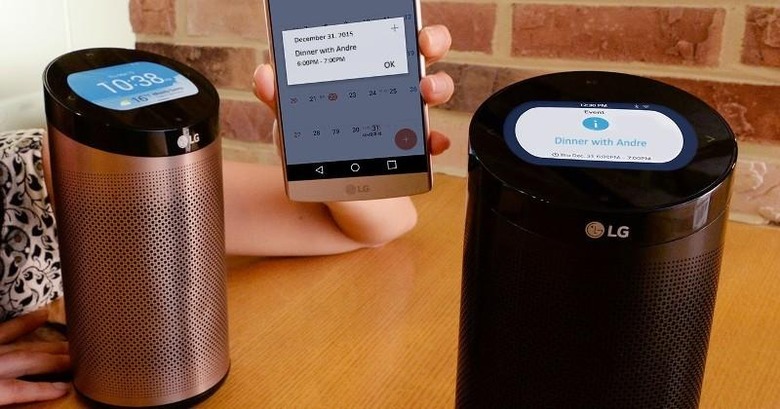 Amazon might have started the "tube trend" with its Echo smart assistant, followed by Google's OnHub router. One thing neither of those have, however, is a visual display. That is what LG is trying to propose with its new SmartThinQ Hub, an IoT nexus with a similarly cylindrical form and loud speakers to deliver music and audible notifications. It sets itself apart, however, with its display that delivers readable messages and statuses for those who prefer more discreet forms of communication from the smart home commander.
That display will be the main attraction for the SmartThinQ Hub. While some might just settle for audio notifications, those who prefer to see a more detailed message or information will probably love the 3.5-inch LCD display on top of the Hub. That top is actually angled so that you won't have to peer down on the display to read it. Sadly, it really is just a display, lacking in form of touch input.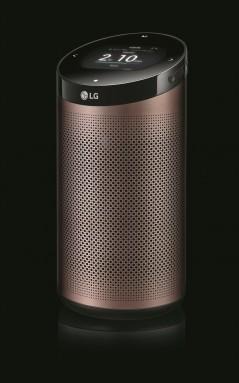 Other than that, the SmartThinQ Hub is exactly what you'd expect, a central locations for gathering notifications from other smart devices, both smartphones and smart appliances. Since it uses the SmartThinQ platform, it is compatible with devices that adhere to the AllJoyn Alliance's IoT platform. Either that or appliances that are connected to the SmartThinQ Sensor that LG announced back in August. Those devices communicate with the Hub via Wi-Fi, ZigBee, or Bluetooth, as the case may be.
Of course, the Hub can also be an entertainment center, at least for music. Aside from announcing notifications, it can also stream music from services like iHeartRadio or music from any smartphone or tablet via Bluetooth.
LG has not yet revealed availability details for the SmartThinQ Hub other than the fact that it will come in classy Champagne Gold and Black finishes. The company does plan on striking up partnerships with smart appliance makers for possible bundling of the Hub or the Sensor with their products. Both SmartThinQ products will be on display at CES 2016 next week.