LG's 65-inch 4K TV gets a price tag, and you probably can't afford it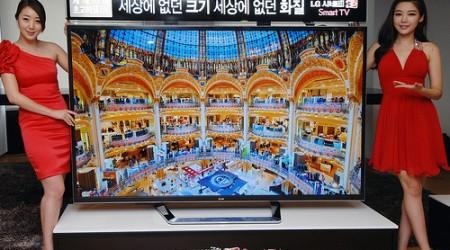 If you're in the market for a 4K TV, the options are likely too pricey for your taste. Samsung's massive offering runs a lot more than most people make in a year, but LG's newest TV may be something worth checking out. At 65-inches, it's also probably big enough to round out your home theater.
There aren't a ton of 4K TV's in the world, which reminds us of the other TV technological advances in our time. First there aren't many, then there are a ton, and then we're on to the next thing. This happens to be the dawn of 4K.
The LG 4K model will set you back about $7,000 — which sounds high. Because it is. If you want the absolute best picture possible, though, you'll want something like this.
The 65EC9700 starts shipping in September, so now is a good time to order without having to wait too long. LG's 4K TV is also curved, which also happens to be the flavor of the week. At CES this year, we saw plenty of curved TVs, and they are pretty cool, but also a bit disorienting at first.
At $7,000, though, you might be better off waiting for what's next. Like TV teh does, the first wave is typically very expensive. Over the course of the next year or two, the prices and screen sizes will drop dramatically. If you're interested, we wouldn't dissuade you from snapping this up. If you can't afford it, consider this the first TV that packs a class-leading screen for what is — at least right now — a good price.
Via: Geek