105-inch Samsung UHD TV available for pre-order soon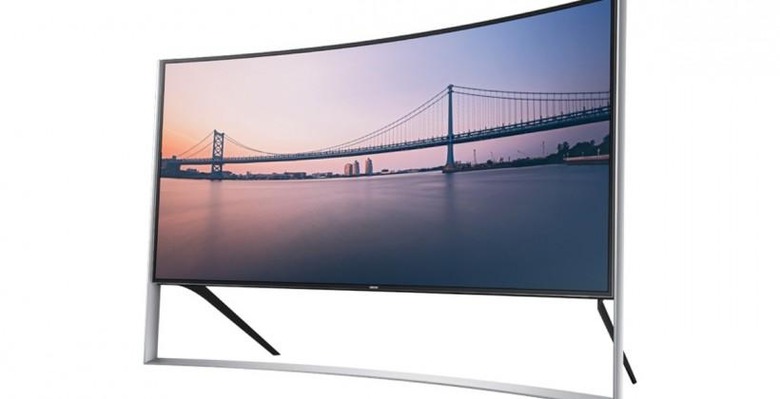 We may receive a commission on purchases made from links.
If you're in the market for a 100-inch TV, we've got great news for you! The massive Samsung Curved UHD TV, which checks in at 105-inches, will be available for pre-order this week. With a price-tag to match it's screen size, it may not be one for your living room, though.
Then again, if you've got space for a 105-inch TV, maybe you've got the cash. the TV will, in pre-order at least, set you back a cool $119,999.99. Yes, that's right — $120k for a TV.
On a more positive note, a big TV can be more than your conduit for Dancing With the Stars. Something of that size would make for a great home theater, and game-day will never be the same if you have a larger-than-life display.
That big display packs a punch, too. At a resolution of 5120 x 2160, Samsung says their screen can handle up to 4K imagery. A staggering 11 million pixels dot your screen, and Samsung achieves accurate color reproduction with "UHD Dimming and Precision Black to deliver deeper blacks and brighter whites."
You can even split the screen into four (game-day at your place forever!), and those boxes can all access different content streams. Watch the game, surf the web, or watch a Netflix movies — all on the same display.
Joe Stinziano, Executive Vice President, Samsung Electronics America, said "We continue to set the bar as the UHD market leader by delivering the best picture quality, design and most immersive viewing experiences in home entertainment. The introduction and availability of our new 105" Curved UHD TV represents our unremitting efforts to reshape TV, driven by consumers' passion for entertainment. Made for the premium entertainment lover, the 105" Curved UHD TV features the most advanced technology and design, a massive movie-theater style UHD screen and a curve that creates the ultimate cinematic experience." The UN105S9W can be viewed and ordered up via Samsung.