LG XNote P510: Textured Notebook With LEDs & Haptics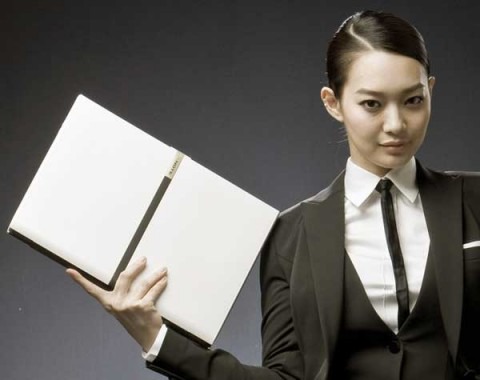 LG have announced their latest notebook, the LG XNote P510, complete with a 15.4-inch LED backlit 1,440 x 900 LCD, NVIDIA GeForce GT130M graphics and a choice of three Intel Core 2 Duo processors.  In an attempt to make using their new flagship more stimulating, there's also haptic feedback from certain controls – such as the power button – and LED illumination of the trackpad. 
Video demo of the LG XNote P510 after the cut
Three P510 models are on offer.  The XNote P510-UP88K kicks off the range, with an Intel Core 2 Duo P8700 (2.53GHz, L2 cache, 3MB, 1066MHz), 2GB DDR3 memory, 320GB hard-drive, external USB optical drive and WiFi a/b/g/n.  Then there's the P510-UP95K, which gets a Core 2 Duo T9550 (2.66GHz, L2 cache, 6MB, 1066MHz) processor and 4GB of DDR3 memory, plus a 500GB hard-drive.  Finally, there's the LG XNote P510-UP98K, with a Core 2 Duo T9800 (2.98GHz, L2 cache, 6MB, 1066MHz) processor, the same 4GB of DDR3 memory but both a 64GB SSD and 500GB hard-drive.
All three versions run Windows Vista Premium and weigh around 2.3kg.  They've also got some bizarre texturing on the cover, which Google Translate suggests is a "crinkly skirt design", and a rubber keyboard.  No word on pricing, but they'll launch sometime this year.
[via Akihabara]