LG X5 finally revealed, along side X skin (style), X power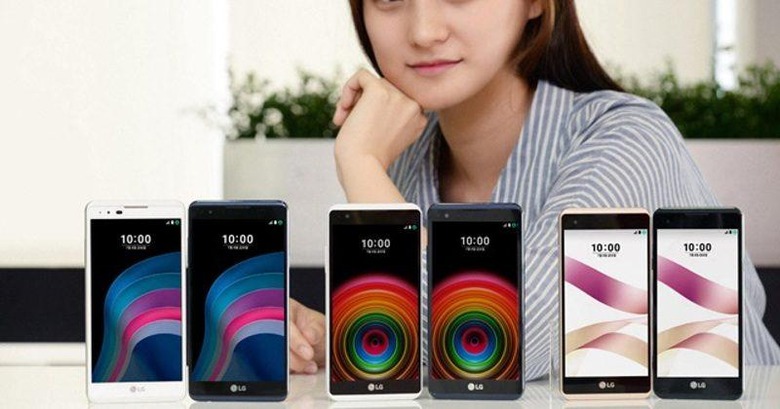 Near the end of May, LG was seen trying to trademark an "X5" brand. Shortly afterwards, it officially announced four new X series smartphones, capitalizing on the then newly launched X-Men: Apocalypse film. Still, no X5 in sight. Now a month later, LG is finally confirming that such a smartphone does exist. Alongside an earlier teased X power and X skin (a.k.a. X style), the LG X5 adds yet another member to LG's already confusing array of mid-range smartphones, each trying to sell something special. Or so LG says.
The new X series stands in contrast to LG's flag bearer G series. The models in these class are unabashedly mid to low tier, though a few do try to borrow a few elements from higher end models. The LG X cam, for example, bears a dual camera setup while the X screen has a second screen strip like the LG V10.
With a name like X power, you can already assume that puts the focus on the battery. Indeed, it sports a rather hefty 4,100 mAh pack, which is impressive considering its 7.9 mm thickness and 5.3-inch screen. In stark contrast, the X skin, which also goes by X style, is the thinnest of the three with a 6.9 mm profile. It also has the smallest 5.0-inch HD screen as well as the smallest 2,100 mAh battery.
It's harder to place the LG X5, as it stands awkwardly in the middle of the two, with a 7.2 mm thickness, 2,800 mAh battery, and a larger 5.5-inch screen. All of the three seem to run on the same 1.3 GHz quad-core processor, have 2 GB of RAM (except for the X skin's odd 1.5 GB), and 16 GB of storage. No word yet if and when these, especially the LG X5, will be made available in international markets.
LG X5
• OS: Android 6.0 Marshmallow
• Screen: 5.5 inches HD
• CPU: 1.3GHz Quad Core
• RAM: 2GB RAM
• Storage: 16GB ROM
• Cameras: Rear 13MP / 5MP front
• Battery: Removable 2,800mAh
• Size: 151.6 × 76.9 × 7.2mm
• Weight: 133g
• Colors: White, Indigo Black
LG X Power
• OS Android 6.0 Marshmallow
• Screen: 5.3 inches HD
• CPU: 1.3GHz Quad-Core
• RAM: 2GB RAM
• Storage: 16GB ROM
• Cameras: Rear 13MP / 5MP front
• Battery: Piece 4,100mAh
• Size: 148.9 × 74.9 × 7.9mm
• Weight: 139g
• Colors: White, Indigo Black
LG X Skin/Style
• OS: Android 6.0 Marshmallow
• Screen: 5.0 inches HD
• CPU: 1.3GHz Quad Core
• RAM: 1.5GB RAM
• Storage: 16GB ROM
• Cameras: Rear 8MP / 5MP front
• Battery: Removable 2,100mAh
• Size: 144.8 × 71.4 × 6.9 mm
• Weight: 122g
• Colors: Gold, titanium
SOURCE: LG