LG X110 with 3G HSPA WWAN option confirmed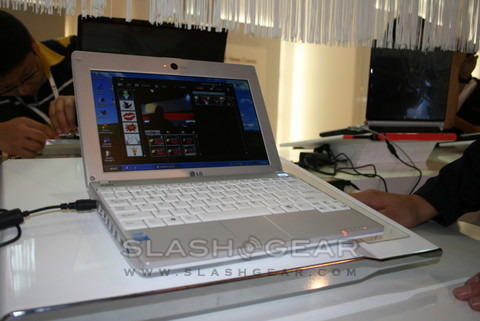 LG's netbook – which we played with back at IFA 2008 - has now got a product page and a full name - X110 Momo – together with confirmation of the 3G WWAN connectivity.  According to the LG people we spoke to back in August, 3G HSPA and GPS would be optional additions for the X110 Momo; only one version of the netbook is currently shown on the product page, including "3G embedded", but the full specifications seem to suggest that multiple models will be available, with and without WWAN.
Both the "Connection Manager" and "HSPA Installation CD" are both marked as "3G only", indicating that only models with WWAN will include them.  It also suggests that more than one version of the netbook is coming, which would tally with the price range LG told us at IFA 2008.
The X110 Momo uses the by-now-typical Intel Atom CPU, with a choice of 80GB or 100GB hard-drives, up to 1GB of RAM and a 10-inch display.  It will apparently be available in Europe at the end of September, priced between €399 and €499 ($586 to $733).
[via Wired]