LG Watch Urbane now on Google Store, G Watch R, Moto 360 prices cut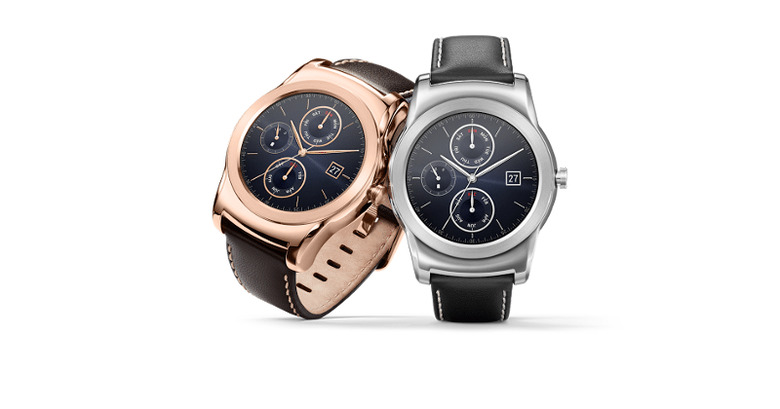 True to their word, LG has made available the classy Watch Urbane this week although not yet in all retail outlets. However, those who have the luck of being able to access Google Store's collection of devices can now also grab the smartwatch for themselves. Yes, the LG Watch Urbane has landed on Google's device store but still in limited reach. In the meantime, as if to give way to the newest arrival, the LG G Watch R and the Moto 360 get a hopefully permanent price cut.
The LG Watch Urbane poses a bigger threat to the Moto 360 than the G Watch R ever did. While LG's first round smartwatch did utilize the entire screen unlike Motorola's, it didn't have the same stylish appeal and was seen more as a large sportswatch. The Watch Urbane aims to correct that without changing much of the innards of the device. It's still practically the same 1.3-inch display with a 320x320 resolution, a 1.2 GHz processor, 512 MB of RAM, and 4 GB of internal storage. Of course, in this case, appearance does matter though we'll have to see if it will be enough to boost LG's smartwatch sales after three attempts in the market.
For that added style, you will have to pay $50 more than the G Watch R. The LG Watch Urbane asks for $349 on Google Store, but it won't be available everywhere Google Store is. Initial availability is limited to Australia, Canada, France, Germany, Hong Kong, Ireland, Italy, South Korea, Spain, the UK, and the US. We expect that roster to expand in the coming weeks, both in online and retail stores.
Meanwhile, Google has seemingly pulled down prices a bit for its other smartwatch offerings. The LG G Watch R, originally price as $299, now goes for only $249, a $50 cut that seems inversely proportional to the Watch Urbane's $50 higher price tag. The Moto 360, on the other hand, goes from $249 down to $179, a bigger $70 reduction in cost. Whether or not this has anything to do with the arrival of an equally fashionable round-faced smartwatch is something left for speculation and conspiracy theories. For now, it isn't known if the price changes are permanent, as it seems that the discount is applied only at checkout.