LG Versa gets official on Verizon: $199.99 on March 1st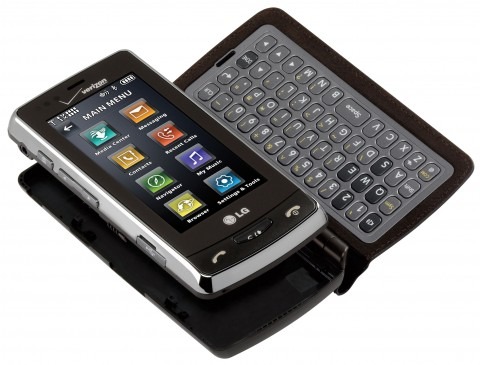 LG's detachable QWERTY touchscreen feature-phone, the LG Versa, has been officially announced for Verizon Wireless.  Available March 1st 2009, the Verizon LG Versa has a 3-inch 480 x 240 touchscreen, Bluetooth 2.1+EDR and EV-DO Rev.A; however its most striking feature is the included case, which has a built-in QWERTY keyboard and, on the outside, a 0.94-inch 56 x 120 monochrome OLED display used for Caller ID, phone status and displaying the time.
Since there's all that QWERTY goodness just lying there, LG have packed the Versa with messaging functionality.  Preloaded are mobile IM clients for AIM, MSN and Yahoo!, together with email access for the three networks, and there's also the usual text, picture and video messaging capabilities.  The latter two make use of the Verizon LG Versa's 2-megapixel camera, which has autofocus and a flash; images can be tweaked on-device thanks to the onboard picture editor.
There's also a media player, VZ Navigator, Visual Voice Mail and mobile internet access.  The LG Versa will be launched on March 1st, and Verizon Wireless will charge you $249.99 to get your hands on it.  There's also a $50 mail-in rebate that will bring that under $200. 
[via PHONE Magazine]
Press Release:
Verizon Wireless LG Versa Gives new meaning TO VERSATILITY

Attachable QWERTY Keypad, Animated Touch Screen Interface, and Advanced Web Browsing Offer Latest in Wireless Phone Style and Function

BASKING RIDGE, N.J., and SAN DIEGO – Verizon Wireless and LG Electronics MobileComm U.S.A., Inc. (LG Mobile Phones) announced today that the LG Versa™ will be available on the nation's largest and most reliable wireless voice and data network beginning March 1. The LG Versa will be an MVP (Most Versatile Phone) for customers, sporting an elegant bar design with a chrome border, animated 3-inch touch screen interface with tactile feedback and an attachable QWERTY keypad.

Customers can personalize their LG Versa phones based on their messaging needs on any given day – either attach the QWERTY keypad to their phones or leave the keypad at home. The LG Versa's home screen is transformed into a sizzling, animated 3D interface and customers can quickly customize up to three different home screens with their favorite shortcuts. The built-in accelerometer rotates screens automatically from portrait to landscape, and customers can use rotation movements to steer games. The HTML Web browser includes Flash and RSS feed support, and customers can keep up to three windows open and switch from one window to the other to view pages.

Additionally, the phone comes packed with Verizon Wireless' V CAST Music with Rhapsody and V CAST Video services. V CAST Music with Rhapsody allows customers to purchase more than 5 million full songs over-the-air, download the master copy of their songs to their PCs free of digital rights management (DRM) software and sync their favorite tracks, albums and playlists from their PCs to their LG Versa phones using the included USB cable.

V CAST Video allows customers to download or stream video from the best names in news, sports, entertainment and more.

The LG Versa supports productivity tools – such as Visual Voice Mail to keep people more productive and prioritize their messages – while Verizon Wireless' VZ NavigatorSM service transforms the phone into a navigation device at a fraction of the cost of most GPS systems. In addition, the LG Versa is compatible with Mobile Broadband Connect to allow customers to use their phones as a modem by linking their laptops to their phones to establish a broadband connection anywhere within Verizon Wireless' Mobile Broadband rate and coverage area.

Additional features and capabilities of the LG Versa include:

Virtual QWERTY keypad

2.0 megapixel camera and camcorder with autofocus, flash and image editor

SmartPic technology for improved image quality

Camera resolutions: 1600 x 1200 (default), 1280 x 960, 800 x 400, 640 x 480, 320 x 240 pixels

Face detection – automatically detect a face when taking a picture

Zoom: up to 2x

Image editor: zoom, rotate, crop, add frames and icons, and write over images

Video resolutions: 640 x 480, 320 x 240, 176 x 144 pixels (default)

Video recording time: 30 seconds for sending or up to one hour for saving

Video player for WMV, MP4, 3GP, 3G2 formats

Customizable brightness, white balance, shutter sound, color effects, photometry, and self-timer

Music Player –

Music player for .mp3, .wma, unprotected .aac and unprotected .aac+ formats

Multitask while playing music – hide player to send messages, edit contacts, and browse the Web

Create and manage playlists

Music Library – organized by artist, genre and album

Music Only Mode (RF off except Bluetooth®)

microSD™ memory port with up to 16 GB support coming soon

USB Mass Storage – transfer files between microSD card and PC

Bluetooth Version 2.1 + EDR (Enhanced Data Rate) –

Supported profiles: headset, hands-free (car kits), dial-up networking, stereo phonebook access, basic printing, object push (for vCard and vCal), file transfer, basic imaging, and human interface device

Animated three-dimensional interface for home screens – customize up to three home screens with favorite features and applications

Module home screen when QWERTY keypad is attached

VZ Navigator-capable – get visual and audible directions to thousands of destinations, locate businesses and other points of interest, get maps of a location and share directions with others

Chaperone® Child-capable – allows the LG Versa to have its location shared with family members via the Chaperone Web site, the Chaperone® Parent application or Child Zone® SMS alerts

Chaperone® Parent-capable – with the Chaperone Parent application, customers can view location information or be notified of the whereabouts of the Chaperone Child phone

Visual Voice Mail – delete, reply and forward voice mail messages without having to listen to prior messages or voice instructions

Mobile Web-capable – customizable, enhanced wireless access to the latest in news, sports, weather and more

Mobile Email – access MSN® Hotmail®, America Online® and Yahoo! ® accounts to exchange e-mail

Media Center-capable – downloadable games, ringtones, wallpapers, location-based services and more

Mobile IM using AIM®, MSN, Yahoo!

Auto Screen and Key Lock – prevents unwanted key actions

2.5 mm headset jack

Text, picture and video messaging

Supports threaded messaging

Personal organizer with calculator, EZ Tip Calculator, calendar, alarm clock, stopwatch, world clock, notepad, and drawing pad with character recognition

Speakerphone and voice commands

Bilingual interface – English and Spanish

Phonebook with up to 1,000 entries with multiple contacts

TTY/TDD-capable

In Case of Emergency contacts

Frequency: 1.9 GHz CDMA PCS, 800 MHz CDMA

Data transmission: EV-DO Revision A (Rev. A)

Dimensions: 4.16" (h) x 2.07" (w) x 0.54" (d)

Weight: 3.81 ounces

Hearing Aid Compatibility = M4/T4

SAR: head 1.38 W/kg, body 0.764 W/kg

LCD: 262K color TFT, 480 x 240 pixels, 3.0"

Ambient light sensor controls the brightness on the LCD according to surrounding light

Proximity sensor turns LCD off when a customer is placing a call on the LG Versa

External LCD: monochrome OLED, 56 x 120 pixels, 0.94" (only available on the QWERTY keypad attachment)

Standard battery: 1,100 mAh

Usage time: up to 290 minutes or

Standby time: up to 430 hours

Pricing

The LG Versa will be available online at www.verizonwireless.com and in Verizon Wireless Communications Stores beginning March 1 for $199.99 after a $50 mail-in rebate with a new two-year customer agreement. Customers will receive the rebate in the form of a debit card; upon receipt, customers may use the card as cash anywhere debit cards are accepted.

Customers can get the most out of their LG Versa with Verizon Wireless' Nationwide Premium calling plan. Starting at $79.99 monthly access, the Nationwide Premium calling plan includes unlimited messaging, VZ Navigator, Mobile Email and V CAST VPak, plus unlimited megabytes for Mobile Web and Media Center. Mobile Broadband Connect can be added to their plans for $59.99 monthly access for 5 GB, and Visual Voice Mail is available for $2.99 monthly access, per line, plus airtime or megabyte charges and messaging fees, depending on a customer's plan.

For more information about Verizon Wireless products and services, visit a Verizon Wireless Communications Store, call 1-800-2 JOIN IN or go to www.verizonwireless.com.