LG Versa Game Controller on sale: $29.99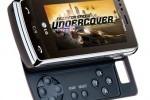 The Game Controller accessory for the Verizon LG Versa cellphone has gone on sale, the first alternative to the standard snap-on QWERTY keyboard.  According to the description, the Game Controller slides out from the rear of the handset when needed.
Buttons include an 8-way directional pad and four action buttons, together with start and select.  The Game Controller recognizes multiple simultaneous key-presses, and draws its power from the Versa itself rather than requiring batteries.
Future snap-on accessories are said to include a WiFi module, which would likely be much-welcome for those tired of Verizon's anti-WiFi stance.  The Game Controller for the LG Versa is available now, priced at $29.99.
[Thanks Alex!]