LG V60 ThinQ images leak, show full 5G phone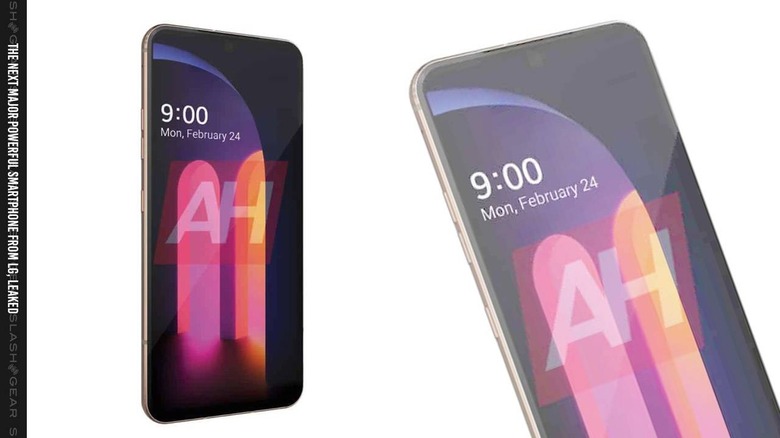 Today the LG V60 ThinQ smartphone leaked in a major way. This device previously appeared in a set of images showing the back side and – strangely enough – the inside of the phone. Now we're getting a better look at the front side of the phone – along with the display and the way in which the front-facing camera and sensors are handled by the manufacturer. This smartphone will likely appear detailed and released for sale later this year.
The smartphone you see above was leaked on Android Headlines where they've suggested it was originally meant to appear at MWC 2020. That global technology conference, Mobile World Congress, was set to take place starting this weekend, and the LG V60 was likely meant to appear first on February 24, 2020. Instead, we've seen a couple of leaks of the device and we've got a general idea of where we'll be going from here.
The LG V50 was shown in part in a leak in early February, where we learned that it'd have four microphones, a headphone jack, and a monstrous battery. It was suggested then that the LG V60 ThinQ would also have 5G connectivity capabilities.
This smartphone will be a step up from the LG V50 ThinQ, a device that sported a notch – a different, wider notch than we're seeing with the V60 render here. That V50 had a 6.4-inch display with 1440 x 3120 pixels, 19.5:9 ratio (~538 ppi density), and Android 9 (upgradeable to Android 10). This new device will almost certainly have Android 10 right out the gate, upgradeable to Android R, aka Android 11.
The LG V60 will be a battery-centric, screen-centric, high quality audio-centric media consumption machine, of that you can be sure. Given LG's track record with camera quality, we won't be expecting a whole lot for HDR or low-light performance, but that wide angle view – that's likely ready to keep on rolling. We'll see more soon, cross your fingers for sooner rather than later!