LG V40 ThinQ Squeezes In 5 Cameras And Some Surprises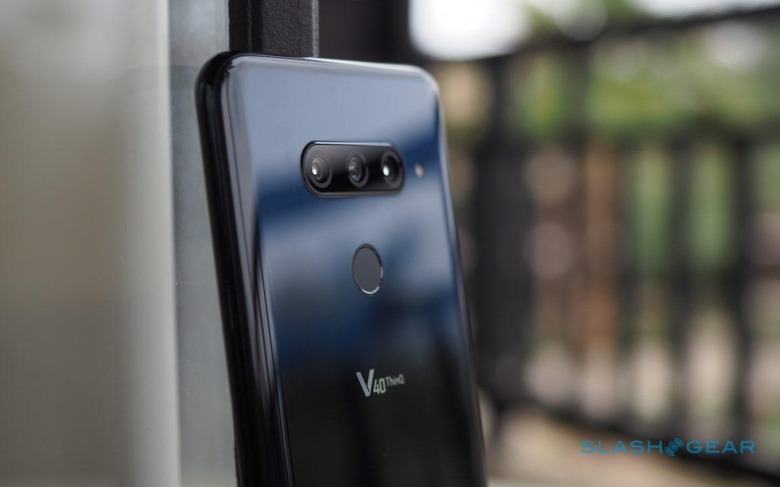 The LG V40 ThinQ is here, and if you've ever looked at your smartphone and thought "dang, this thing needs more cameras" then this might be the Android for you. Bristling with two cameras on the front and three on the back, the V40 ThinQ not only promises more choice in your photography, but insists it can stop that from becoming confusing, too.
The front gets an 8-megapixel f/1.9 lens with an 80-degree field of view, alongside a 5-megapixel f/2.2 lens with a wider 90-degree field of view. Users were asking for the camera's perspective to be tighter, LG says, for a more controlled shot. As you'd expect you can do Portrait mode selfies with background defocus, and both the front and rear cameras can have their bokeh adjusted before or after the shot is captured.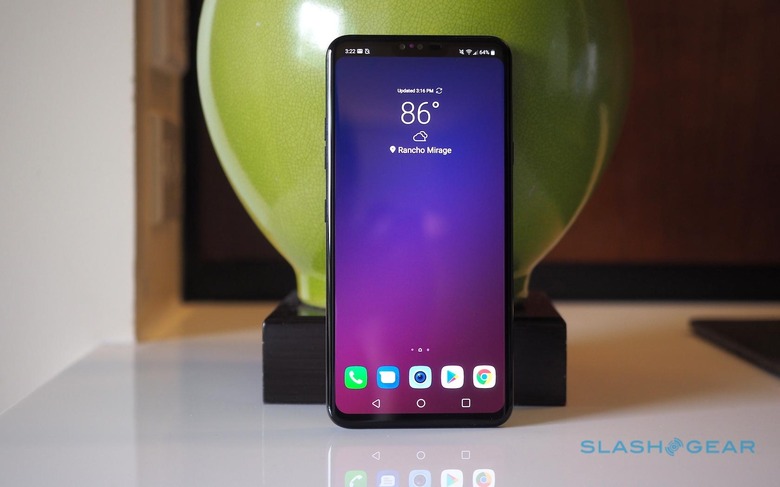 On the back, meanwhile, are three cameras. On the right is the standard lens, with a 12-megapixel sensor, f/1.5 lens, and a 78-degree field of view. It packs optical image stabilization and dual phase-detection autofocus, and has 40-percent larger pixels than the G7 ThinQ.
In the middle is the super wide-angle lens, with a 16-megapixel sensor, f/1.9 lens, and a 107-degree field of view. Finally, there's a 5-megapixel wide-angle sensor, with an f/2.2 lens and 90-degree field of view.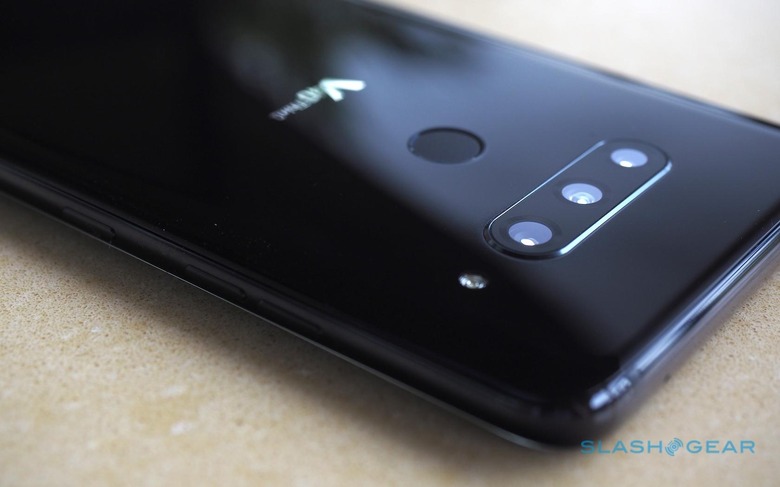 LG has combined those three cameras with a fair amount of new software. There's a new multi-frame HDR system, for instance, which looks for human figures first and anchors the brightness of the frame to that. If there's not enough detail it can combine up to four frames. The logic for daylight HDR and low-light HDR is completely different, LG says, but the camera always prioritizes people.
A row of three buttons running along the top of the camera app allow you to switch between the different lenses. Press and hold one, though, and you get small thumbnails previewing all three. That, LG says, is to help avoid lens overload.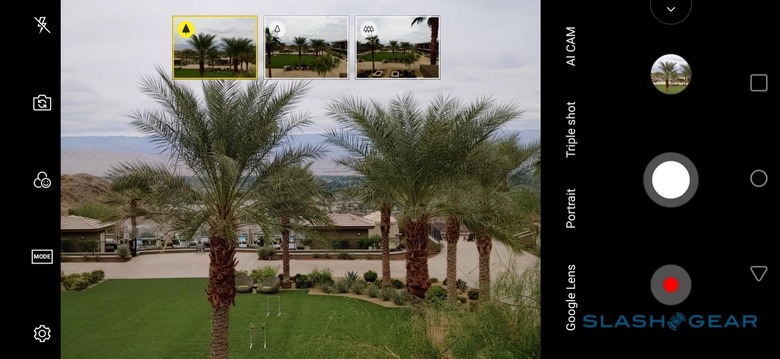 A Triple Shot mode, meanwhile, captures a frame from all three cameras, and then creates a short movie complete with transitions and background music. You can change the transitions and the music if you prefer. It's clever, and can make for an interesting effect if you're revealing a larger, more interesting scene, or tightening attention on something in the center of the frame. However in my early testing the fact that the three cameras don't quite line up in what they put in the center of the animation can leave it looking a little jarring.
Portrait mode gets a new Light Effect system, which is basically LG's take on the iPhone's Portrait Lighting modes. There are five settings to choose from – Natural, Studio, Contour, Stage, and Stage Mono – and they're available on both the front and rear cameras. Like Portrait Lighting on the iPhone, too, they can be patchy in how well they work, if the V40 has struggled to properly delineate the edges of the subject of your shot.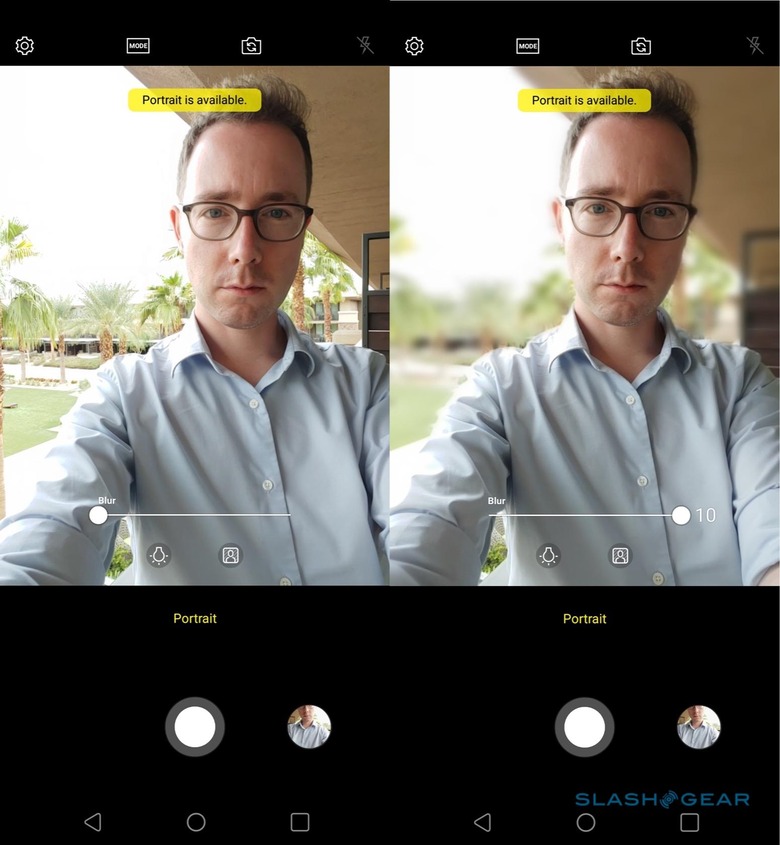 The other big feature LG is pushing with the V40 ThinQ is Cine Shot. Effectively making a cinemagraph, or "living photo," it takes a three second video clip and then allows you to mask out sections you want to have animated. That can then be looped or bounce-looped into a short video, and saved as an MP4.
As for the rest of the phone, the V40 doesn't stray too far from the pattern set down by the G7 ThinQ and V30 before it. The screen is a 6.4-inch FullVision OLED panel running at 3120 x 1440 resolution and supporting HDR10 content. It looks, as you'd expect, excellent, with rich colors. It's also bright, with a peak of 500-600 nits.
Inside there's Qualcomm's Snapdragon 845 chipset with 6GB of LPDDR4 RAM and 64GB of storage. It'll run Android 8.1 Oreo at launch; LG says it doesn't have a public timescale to share yet as to when it – or indeed the LG G7 ThinQ – will get Android 9 Pie. LG still gives you a microSD card slot, and it still gives you a 3.5mm headphone jack, too. The latter works with a 32-bit Hi-Fi Quad DAC with DTS:X 3D Surround Sound. LG tells me it still wants to position its smartphones as the best option for audiophiles, many of whom just aren't ready to embrace wireless headphones full-time.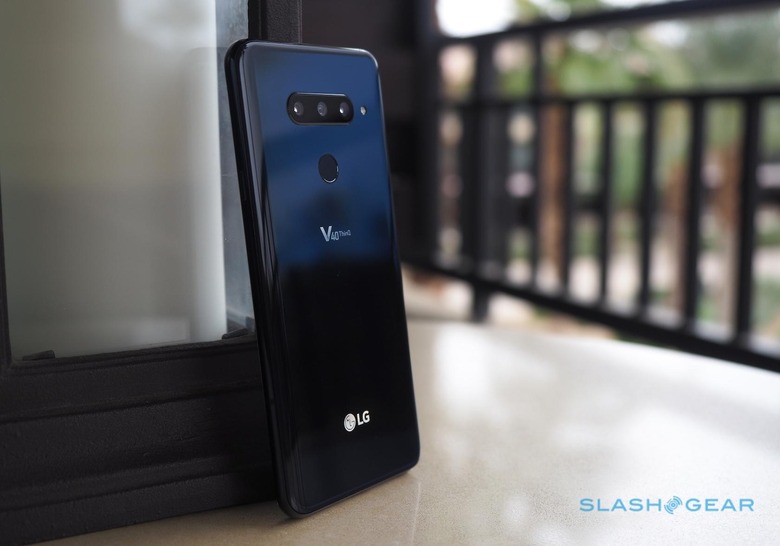 For when they are, there's Bluetooth 5.0 alongside the WiFi 802.11ac, NFC, and USB 3.1 Type-C. The V40 is IP68 water and dust resistant, MIL-STD-810 certified, and has Corning Gorilla Class 5 to protect it. There's a fingerprint sensor on the back, and Qi fast wireless charging.
LG opted for a 3,300 mAh battery, which looks – on paper at least – a little on the small side. In the company's own testing, it insists, it sees only around 10-percent less runtime than a Note 9 with a 4,000 mAh battery, however. That smaller li-ion does have another advantage, though.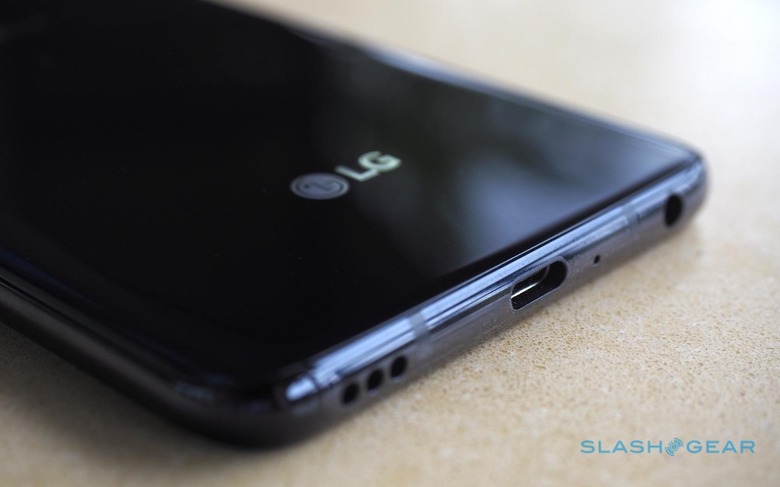 That's the overall weight. The V40 ThinQ is unusually, unexpectedly light in the hand, at 5.96 ounces. That's significantly lighter than both the Note 9 and the iPhone XS Max, despite having a similar screen size. At 2.98 x 0.31 x 6.25 inches, too, it's hardly bulky.
Overall, LG's goal is to push the vision of AI photography that it began with earlier ThinQ devices. While prosumers might still be demanding full manual modes – and indeed the V40's camera app does offer manual controls – the reality is, LG says, that most people don't ever actually use them. Even if they do know how the options work, the company argues, in the haste to capture an image they often simply lack the time to play with the settings.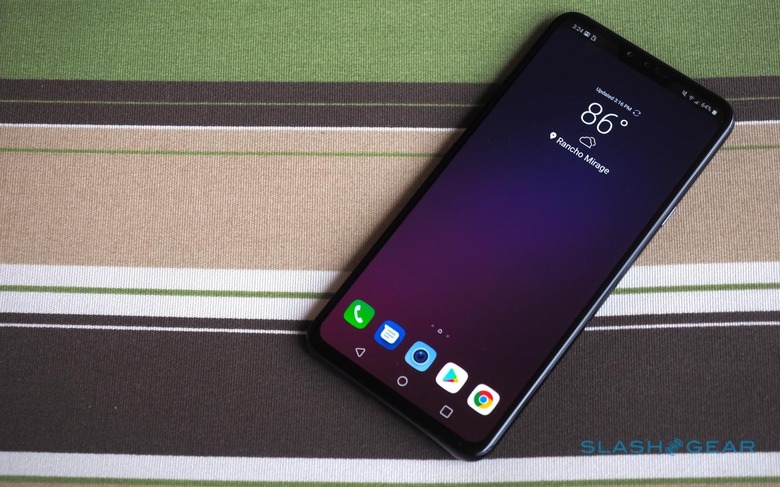 We've got an LG V40 ThinQ in now, and will have a full review very soon. Sales will kick off in-store on Thursday, October 18. Pre-orders, meanwhile, will start around October 12: T-Mobile will offer it for $920, Verizon for $980, Sprint for $960, US Cellular for $900, and AT&T for $950.
There'll also be a number of special offers. Pre-order the V40, for instance, and you'll get a DJI Osmo Mobile 2 worth $258 and a SanDisk 256GB microSD card worth $119 thrown in. At retail, the V40 ThinQ will come with the SanDisk 256GB card, meanwhile.