LG V34 is the smaller, waterproof V20 you can't have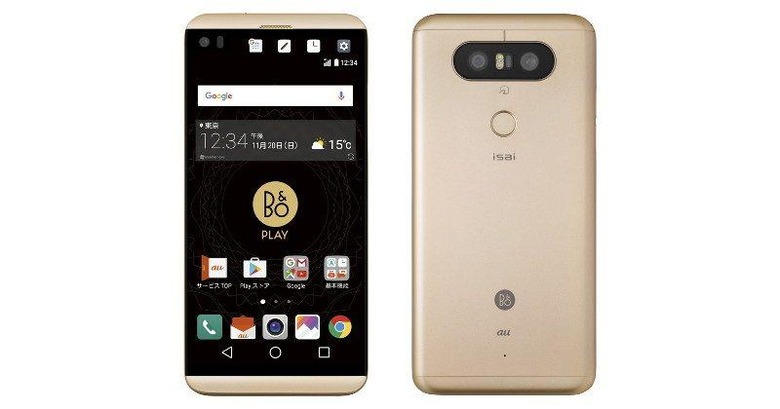 The LG V20 is admittedly one of the nicer Android smartphones this half of the year, especially with the Samsung Galaxy Note 7 out of the running. But nice as it is, it have a few things that make it less than perfect for some. For one, some might find the 5.7-inch screen a tad too big. For another, it doesn't speak of any dust or waterproofing at all, much like the new Google Pixel. It seems, however, that LG has addressed those complaints in a new LG V34. The bad news: it's only available in Japan.
Japanese carrier KDDI revealed the LG V34, which is a dead knocker for the LG V20, except for two important factors. One is that it is considerably smaller, only 5.2-inches. The other is that it now boasts of IP67 protection. It's not the highest IP68, mind you, but it's a whole lot better than nothing at all.
Other than those two, the V34 and V20 are identical. That means that the 5.2-inch screen actually gets a 2560x1440 resolution. There's also a Qualcomm Snapdragon 820 running inside, complemented by 4 GB of RAM and 32 GB of expandable storage. It even boasts of the same Quad DAC and Bang & Olufsen audio, though it doesn't ship with the B&O Play H3 headphones.
The LG V34 also has the exact same 3,000 mAh battery, with one caveat. It is no longer removable, giving the smartphone a full unibody design. LG would note, however, that having a removable battery and being waterproof aren't mutually exclusive. After all, the iPhone never had a removable battery, but it is only with the iPhone 7 did it become water-resistant. The benefit of having a fixed battery, instead, is that LG was able to cram a battery that is 10-15% larger than what a removable battery would offer. Hence, the same 3,000 mAh even in a smaller unit.
The LG V34 is practically what many would have preferred the LG V20 had been, except perhaps for the removable battery. Sadly, unless you happen to be living in Japan (or somewhere with networks compatible with Japan), that ideal V20 remains but a distant dream.
VIA: Mobile Watch