LG V20 first impressions: Refining what works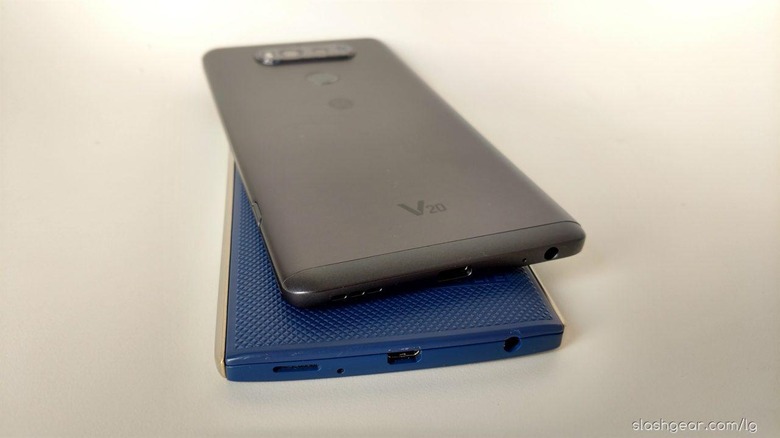 These days, it almost seems that smartphones need some fancy new gimmick or never before seen feature in order to even be newsworthy, let alone purchase-worthy. Sometimes, OEMs even make a radical departure from a previous direction, significantly changing features and designs, sometimes with rather drastic effects. This second half of 2016, LG is being the contrarian. Following the adage "don't change what ain't broke", the LG V20 is more a subtle evolution than a revolution, improving on its predecessor without undoing or replacing what doesn't need to be. And, truth be told, it's a strategy that just might work.
Serious Business
To be fair, the major smartphones of this year seem to have gone down that route as well. The Samsung Galaxy S7 and the Galaxy Note 7 are more incremental in their upgrades, preferring to correct the jarring missteps that Samsung made last year. The iPhone 7 isn't going to make a big jump either, in lieu of a more radical iPhone 8 next year.
LG's philosophy for the V20 is more practical. The LG V10 was already a no-nonsense flagship-level smartphone aimed at more professional mobile photographers and vloggers. It had outstanding features and at least one or two "special" features (Second Screen, dual front cameras), but nothing that screamed to loudly to get attention. Contrast that with the LG G5 and its somewhat debated modularity and the LG V20 will look like some meek underdog. But like most underdogs, it has a strong side to it.
This means that, yes, the LG V20 isn't modular in any way whatsoever. And it isn't going to be, ever. At least that's LG's commitment to the V series. Likewise, it is committed to pushing the modular features of the G series even further, despite criticisms, and that is what will define the future G models. The LG V20 and its heirs, on the other hand, will remain rooted in performance and professional audio/video recording.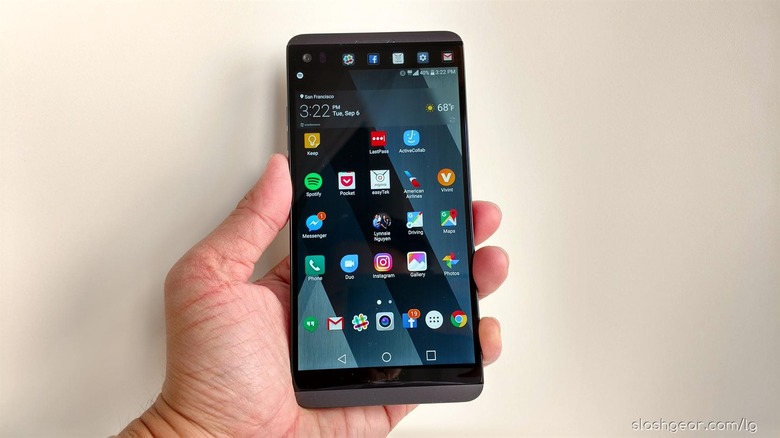 Sounds like a winner
Audio has been an oft ignored aspect of smartphones, because until recently it hasn't been feasible to integrate high-end audio components into such a small space. Having already made its case with cameras in the V10, LG put its weight and its resources on audio for the V20. We've already heard the sales pitch for the Quad DAC feature in the smartphone, the first of its kind to sport it. On paper, LG claims that it offers 55% less distortion, 1.8 times more dynamic range, and 1.4 times the signal to noise ratio compared to "leading competing" smartphones. Take a gander on which one that is.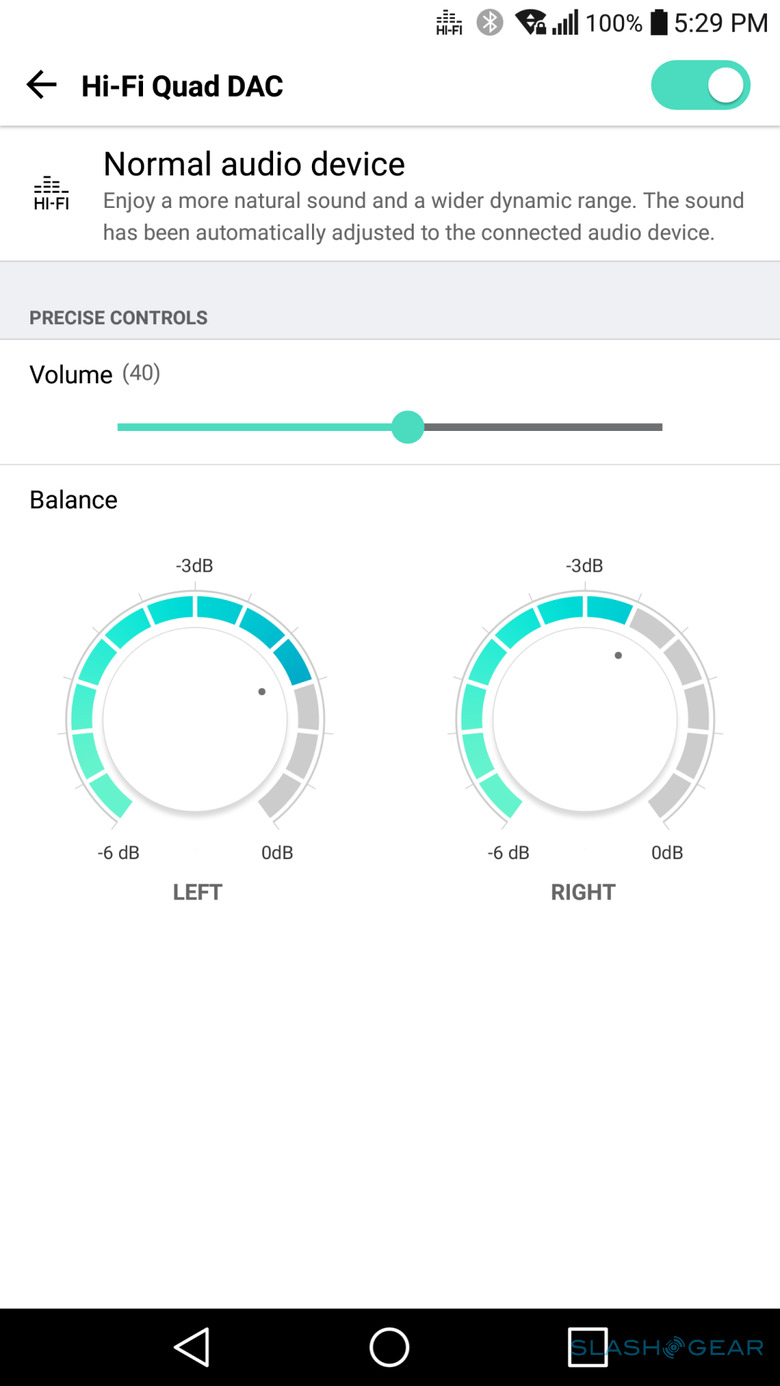 That said, all that will be lost on cheap headphones. That's why LG has partnered with the famed Bang & Olufsen, whose name is becoming more and more ubiquitous inside smartphones, to fine tune the listening experience. That is also why, in some markets, the LG V20 will be shipping with B&O certified headsets.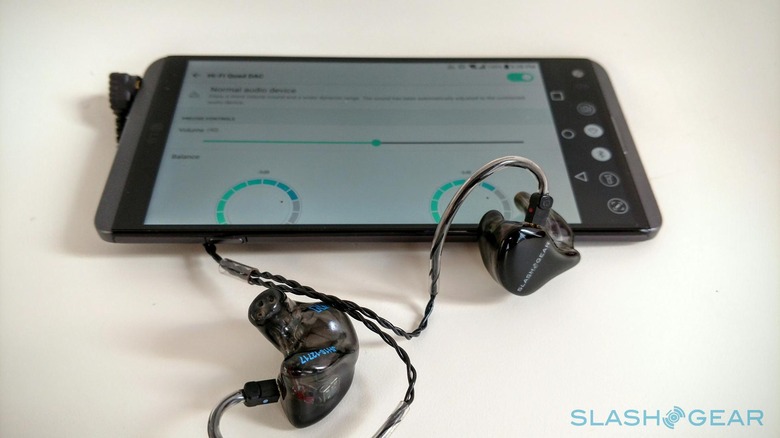 But that's the theory, how does it hold up in practice? Excellent, if we do say so ourselves. Granted, you will of course need high quality earphones to experience the promise of the V20, but most audiophiles will already have their favorite pair. Putting it to the test with the JH16 Pro In-Ear Monitors that we looked into back in 2013, with Spotify's highest "Extreme" quality download as well as lossless audio, we can confidently say that LG definitely has a champ right here.
Head on over to our in-depth experience with the JH16 Pro IEM so see why this pair is worth every dollar.
And in case you happen to require hearing aids, you can still enjoy what the LG V20 has to offer if you have something like the Signia Pure and Insio primax hearing aids. These offer higher HD frequencies, which can take advantage of the V20's high quality audio capabilities for a better listening experience.
Take a peek at our brush with the Signia primax Pure and Insio to find out how these two can change the lives of the hearing impaired.
And in case you haven't noticed it yet, LG hasn't ditched the 3.5 mm headphone jack either. In fact, it doesn't plan to in the foreseeable future. It hasn't found a compelling enough reason to throw away compatibility with hundreds of audio accessories, when it can retain that and still design a thin and light smartphone like the V20.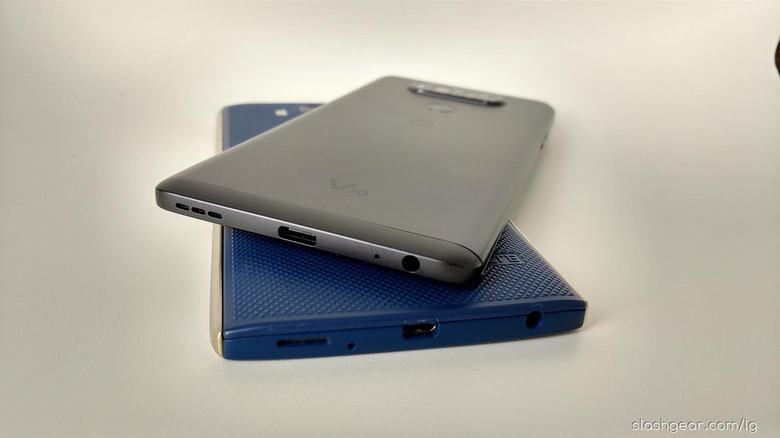 But LG's focus on audio isn't only on the output. For the V20, it sets its eyes on providing what it calls "audition quality audio recording" using only the smartphone's built-in mic. No third-party, external mic needed. And using only the same three mics as the V10. Based on our first brush with the smartphone, which was recorded using the V20, it does achieve a level of quality and clarity you'd be hard pressed to find in smartphones, even the most recent, premium ones.
In Focus
The other side of the audio recording coin is, of course, the cameras. The LG V10 quickly established itself among the who's who of smartphone cameras, before it was overtaken by early 2016 models. The LG G5 put the company's name back on the list and the V20 aims to cement it, with a heavier focus on the main camera. Whereas the V10 before it had dual front cameras, the V20 swaps the focus, no pun intended. It is the rear camera that now has a dual setup, one wide at F2.4 and the other at a normal F1.8 angle. Of course, the good news doesn't stop there.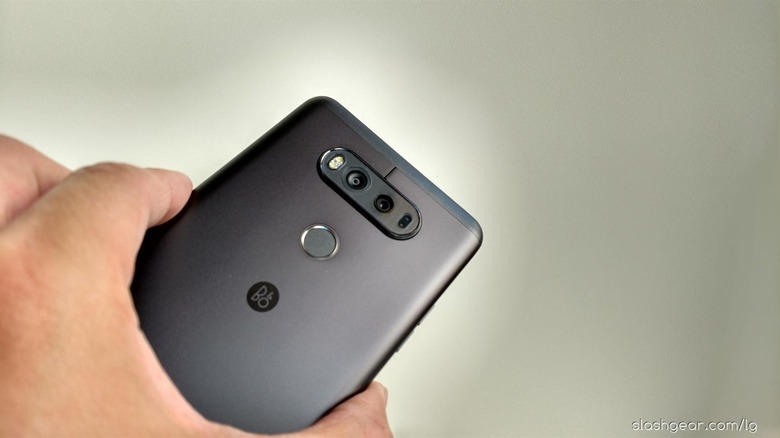 The LG V20 boasts of a feature called "Steady Record 2.0", which takes advantage of a key feature enabled by the Qualcomm Snapdragon 820 but so far unused by LG's competitors. In a nutshell, Steady Record 2.0 combines the Electronic Image Stabilization (EIS) provided by the Snapdragon 820 with a "DIS" post-processing developed by LG. It's a close collaboration of hardware and software and between two companies that together deliver a performance close to that of professional digital cameras.
The V20 also boasts of a Hybrid Autofocus system that you may or may not have heard before. It switches between Laser AF for low-light shots, Phase Detect AF for fast-moving targets, and Contrast AF macros and close-ups, intelligently selecting which AF technology fits the scene best. The feature may sound familiar, but here's one thing that the LG V20 has over the rest: Hybrid AF works for both stills as well as video recording, though only for the normal 16 megapixel F1.8 rear camera.
The end result? A mobile photography experience that keeps any subject always in focus, despite the shakes and jitters of an unsteady hand, and without the heat issues that plagued last year's smartphones.
Watch a plane take off smoothly, thanks to the LG V20's Steady Record 2.0.
We also did an interview with the guys at Peak Design regarding their latest Everyday Bags Kickstarter (which ends really, really soon). And yes, shot on LG V20!
And last but defnitely not least, this walkthrough of the LG V20's features was shot entirely using the V20. Phoneception!
Play More
While LG is putting the spotlight on the V20's audio and video prowess, it hasn't forgotten the details that make the smartphone a well-rounded 2016 smartphone. While it has removed the dual front cameras, a special feature of the V10, it thankfully hasn't removed the second screen. In fact, it has nearly doubled its brightness from 35 to 68 nits and designed its formatting to be able to fit more content. Not a bad feat considering that second screen isn't actually a second screen and is actually part of the same main display, just with a different driver and a cutout for the front camera.
The battery has also been enlarged, from the 3,000 mAh of the V10 to 3,200 mAh. It might not look like much, but in addition to supporting Quick Charge 3.0, it is also removable. Not in the way the LG G5's battery was removable, though. Like smartphones in the past, you pop off the back cover, aluminum this time, and then press a button to pop out the battery. Easy as pie. Sticking to removable batteries is LG's way of demonstrating that the V20 is a smartphone for professionals, where every minute not charging the smartphone, no matter how fast that is, counts.
LG also goes against the growing full metal unibody fad in today's smartphones. In addition to a removable, but still 100% aluminum, back cover, the LG V20 also still has some polycarbonate, the stronger S.I. kind, parts, specifically the top and bottom bumpers. And bumpers they are, as they absorb the shock that comes when phones are dropped, accidentally or otherwise.
Wrap-up
In the midst of all the noise that smartphone makers make these days, the LG V20's serious, almost somber, attitude is a refreshing change of pace. It doesn't change what already works, and simply adds a few more. But that "silence" belies the smartphone's true strengths, particularly in recording and capturing moments, when and where they happen. With a solid and removable battery, near DSLR camera features, and Hi-Fi audio for both recording and playback, LG is poising the LG V20 as the smartphone that no mobile professional should be without.
LG has been pretty coy about launch dates, but promises it will be the usual "weeks" following an announcement. Available colors include Titan Gray, Silver, and Pink. As mentioned, some markets will find a pair of B&O earphones inside the box, but others, like the US, might not. And this time, LG is making sure that its Quick Charge adapter will also be included in every purchase to banish battery anxieties.
LG V10 versus LG V20