LG V10 touts Second Screen, dual front cams, manual video mode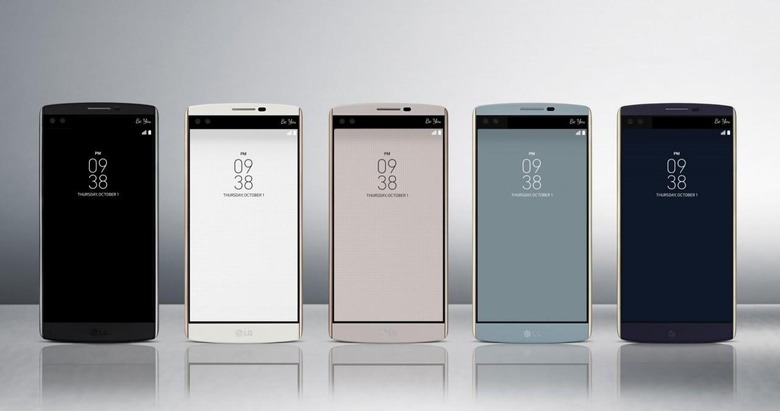 The covers are off and LG does indeed have a "dual screen" V10 smartphone after all. But while it's strip of a display will definitely make some people curious, the LG V10 isn't a one-trick pony. Taking the strong points of the LG G4, the V10 tacks on more photography features to satisfy not only budding hobbyist photographers but also the selfie-loving crowd. With high end specs and a dual front camera, LG is positioning the V10 to be the ultimate partner for creatives always on the go.
The LG V10 has three main feature highlights and, undoubtedly, the Second Screen will be the most talked about of them all. As hinted by earlier leaks, this is an independent display panel at the very top that can remain always on even when the main display isn't, without compromising battery life, or so LG promises. When the main display is off, it serves as a ticker for notifications, weather, and time. When the screen is on, it transforms into a dock for your favorite apps as well as an always visible notification area, useful for when viewing videos or playing games. While the utility may be unquestionable, the position might leave some in doubt, as the top edge of a smartphone usually isn't easily reachable with a single hand, unlike, say, the side edges.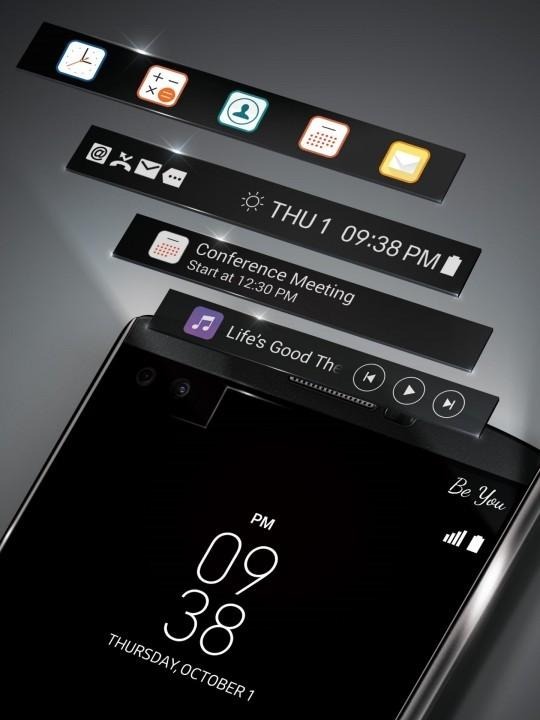 LG is once again pandering to selfie fans in the V10 by placing two 5 megapixel cameras on the front, side by side. The practical usefulness of that setup still needs to be tested in the wild, but in theory it should make wide-angle selfies or groufies easier to do without the use of an obnoxious selfie stick. The cameras stitch up together their independent images in order to build a wider front panorama.
For the more serious photographer, however, the manual video mode might be of more interest. In the LG G4, the Korean manufacturer introduced manual modes for still photos, advertised to be a favorite among more professional photographers. Now it's doing the same for video recording. Users will be able to fine tune their recording settings, from shutter speed, frame rate, ISO, white balance, and focus. In addition, the V10 also offers additional features like Steady Record with the help of the electronic image stabilizer, Snap Video for stitching up smaller videos into a longer one, and a built-in Quick Video Editor for trimming or adding effects.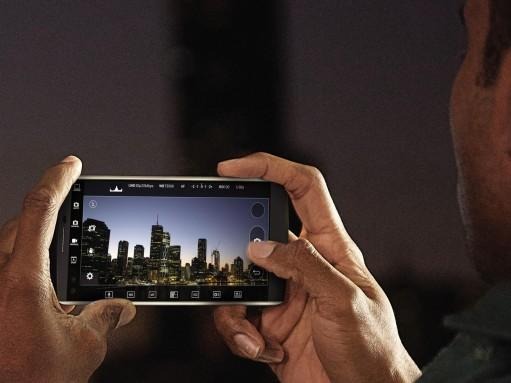 Aside from these new features, the LG V10 is pretty much a step up from the LG G4, both in specs and in size, which now measures 5.7 inches. It still has that QHD resolution, which means a slightly lower pixel density. Although still powered by a hexa-core Qualcomm Snapdragon 808, it now has 4 GB of RAM and 64 GB of internal storage to start with. The battery is still 3,000 mAh but is also still replaceable and supports Quick Charge 2.0. Design-wise, the V10 emphasize durability a bit more than finesse, as exemplified by the more rugged looking grid pattern on the back cover for better grip.
The LG V10 will first be available in South Korea starting October. Other countries like the US, China, and other markets in Asia, Latin America, and the Middle East will follow. Available colors include Space Black, Luxe White, Modern Beige, Ocean Blue and Opal Blue.
• Operating System: Android 5.1.1 Lollipop• CPU: Hexa-core Qualcomm Snapdragon 808• RAM: 4 GB• Storage: 64 GB, microSD up to 2 TB• Display: 5.7-inch 2560x1440 WQHD IPS• Main Camera: 16 megapixel f/1.8 aperature with OIS• Secondary Camera: two 5 megapixel cameras• Network: LTE-A Cat. 6• Connectivity: Wi-Fi 802.11 a/b/g/n/ac, Bluetooth 4.1, NFC, USB 2.0• Battery: 3,000 mAh, removable, Quick Charge 2.0• Dimensions: 159.6 x 79.3 x 8.6 mm• Weight: 192 g