LG updates older smart TVs with webOS 2.0 features for free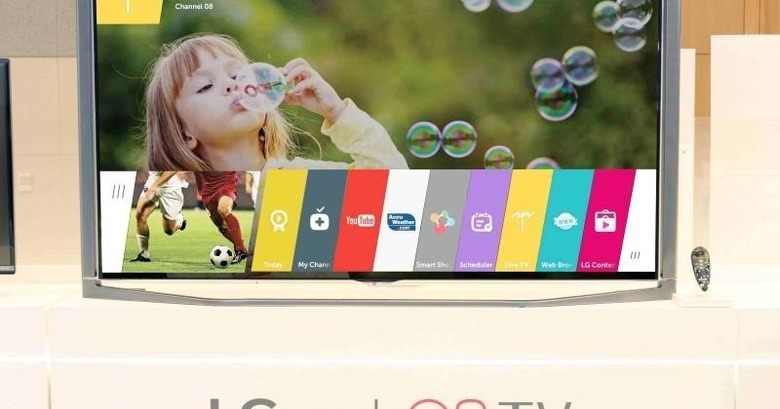 After being stung by the stillborn Google TV promise a few years back, LG decided to go with its own platform instead. Acquiring webOS from HP, which the latter acquired from Palm, LG has put webOS on most if not all of its smart TVs and at least one smartwatch. Continuing its show of support and dedication to its exclusive platform, LG is rolling out a free upgrade to its older webOS 1.0 smart TVs, bringing in some of the features of webOS 2.0 to the screen.
In April, LG promised that it would bring the benefits of its new webOS 2.0 platform even to older smart TVs dating back last year. Today, it fulfills that promise. In particular, four of webOS 2.0's main smart TV features are being added, namely My Channels, Quick Setting, Input Picker, and Live Menu.
The theme of this upgrade seems to be all about speed. My Channels allow users quicker access to their favorite Live TV or set-top box channels while Quick Settings let's them instantly access important settings without having to leave what they're currently viewing. Input Pickers immediately detects connected storage devices for fast access to content and Live Menu lets users search for content faster as well.
This upgrade will go out to owners of these webOS 1.0 sets starting September 21. Those who have enabled automatic updates will naturally get it automatically while those who turned the feature off will be notified once the upgrade is ready to download. All of these is available free of charge, something that LG senior vice president and head of the TV and Monitor Division Lee In-kyu claims is unprecedented in the smart TV market. This is probably a subtle jab at Samsung, who is requiring owners of 2013 and 2014 smart TVs to buy an "evolution kit" if they want to enjoy the benefits of its new Tizen-powered smart TV platform.