LG unveils Optimus F5 and F7 4G LTE smartphones ahead of MWC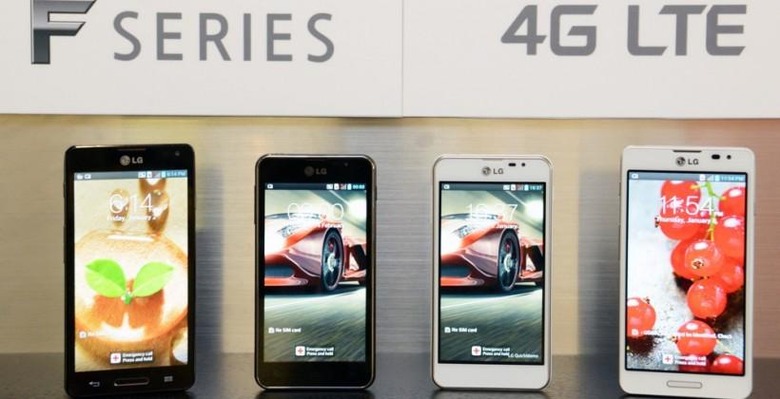 Ahead of the upcoming Mobile World Congress, LG has unveiled two new handsets in the F-series, the Optimus F5 and the Optimus F7. These 4G LTE smartphones both feature mid-to-high range specs, and feature both the convenience of QSlide and the functionality of Live Zooming, which was previously only available for Optimus G. Both smartphones will be available worldwide, launching first in Europe.
First up is the Optimus F5, which features a 1.2GHz dual-core processor and a 4.3-inch IPS display with 256ppi. Inside, users will find 8GB of internal storage space and 1GB of RAM, as well as a microSD slot for expansion up to 32GB. The handset features a 5-megapixel rear camera and a 1.3-megapixel front-facing camera, as well as a 2,150mAh battery. It runs Android 4.1.2 Jelly Bean.
Next is the Optimus F7, which features slightly more advanced specs. The handset is nearly a phablet with a 4.7-inch True HD IPS display (312ppi), as well as a 1.5GHz dual-core processor and 2GB of RAM. There's 8GB of internal storage space, as well as a microSD slot that supports expansion up to 32GB. The rear camera is slightly higher resolution at 8-megapixels, with the front camera clocking in at 1.3-megapixels. The battery is a decent 2,540mAh, and like the F5, it runs Android Jelly Bean 4.1.2.
Says LG's President and CEO Jong-seok Park, "LG continues to lead the industry with 4G LTE innovation and the Optimus F Series, a well-balanced an well-equipped 4G LTE smartphone for the mass market, embodies the best of our broad LTE patent portfolio and innovative UX features. With adoption of LTE expected to explode in 2013, we are sending a clear message to consumers with the Optimus F Series that LTE isn't just for heavy content users and techies anymore. It's for everyone."
[via PRNewswire]