LG Ultra HD 105-Inch Curved TV Leads CES 2014 Lineup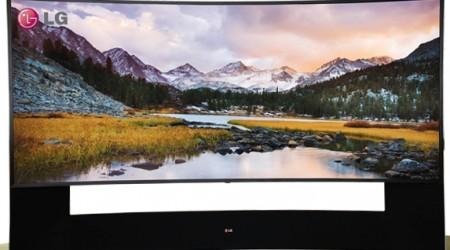 This year at CES 2014, LG will be bringing on a collection of ULTRA HD TV sets that'll be headlined by a massive 104.69-inch set. This beast of a Model 105UC9 will be curved, working with a 21:9 aspect ratio, and will be the first of its kind to be revealed in the world. Also appearing will be 65-, 79-, 84- and 98-inch class models, and that's just for starters – LG's full collection of Ultra HD TVs includes a whopping 12 units in all.
With the "world's first 105-inch Class 21:9 Curved Ultra HD TV" users will find a cinematic aspect ratio to "virutally elimiate" the black bars that've been commonplace in videos from the cinema since "widescreen" was a term. This machine works with a 5120 x 2160 pixel resolution and has a forward-facing 7.2 multi-channel sound system produced in collaboration with harman/kardon.
LG is also showing off its UB9800 series 4K Ultra HD TV lineup with 64.5- and 84.04-inch models. We'll also be seeing some 79- and 98-inch class sizes, but the company has not yet finalized the delivery of exact diagonal measurements at this time.
This whole 4K "UB9800" lineup works with a "unique proprietary chip" that allows the sets to enhance the Ultra HD resolution and "optimizes overall image quality." This chip allows LG to, as they say, work with "LG's latest Tru-ULTRA HD Engine Pro" for highest-end TV picture quality.
This set of sets also works with ULTRA HD CINEMA 3D technology working with Film Patterned Retarder (FPR) "to render convincing 3D images with virutally no flicker or cross-talk." The whole UB9800 line works with 3840 x 2160 pixel panels and ULTRA IPS technology.
LG will also be bringing on the EC9800 and the EC9700, the first available in 77-inch class size, the other in 55- and 65-inch class sizes, the whole lot of them curved. The LG UB9500 will be coming with LED technology as well with 55- and 65-inch class sizes, the UB8500 in 49- and 55-inch class sizes, the set in flatscreen deliveries top to bottom.