LG Trumotion 480Hz LCD panel set for CES 2009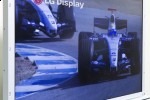 LG's 1,000,000:1 contrast HDTV isn't the only LCD wonder they're planning to demonstrate at CES next week.  Unable to keep it to themselves for another seven days, the company has announced the world's first "Trumotion 480Hz" panel, a combination of LG's existing 240Hz technology with a new backlight capable of being rapidly switched on and off. 
LG are calling it a "scanning backlight", and when combined with the 240Hz system it results in 480 images being displayed per second.  A higher refresh rate generally makes for smoother video and less blur, especially in fast moving footage such as sports.  LG have also managed to bring response times down to 4ms, and the controllable backlight leads to both improved contrast and, when dimmed, energy savings. 
Best of all, the panel isn't merely a concept intended for LG to crow about – it'll be included in high-end HDTVs from the company in the second half of 2009.  No pricing or specific model details – and there's no word on size or resolution of the Trumotion 480Hz penal – but expect the sets to be expensive.
Press Release:
LG Display Unveils the World's First "Trumotion 480Hz" LCD TV Panel

TV Panel Featuring Impressive 4ms Motion Picture Response Time to be Demonstrated at CES 2009

SEOUL, Korea–(BUSINESS WIRE–LG Display (NYSE:LPL, KRX:034220), a leading innovator of TFT-LCD technology, announced today that it has developed the world's first "Trumotion 480Hz" LCD TV panel, which has an impressive 480 refresh rate per second, accelerating the advent of ultra high-speed images, without sacrificing picture quality.

LG Display's 'scanning backlight' is the technology that enables a backlight to be repeatedly turned on and off to reduce motion blur. When combined with the company's 240 Hz technology, the display can refresh 480 images per second.

In addition, LG Display's "Trumotion 480Hz" display boasts an lower motion picture response time (MPRT)of 4ms, eliminating motion blurring for fast moving images and enabling a realistic, crystal clear picture. The display also makes dark images even darker and bright images far brighter – providing unparalleled, vivid picture quality. Moreover, it can reduce energy consumption by adjusting the backlight brightness.

"The world's first Trumotion 480Hz LCD TV panel is planned to hit the market in the second half of 2009. LG Display will provide its customers with unique, high-end products while delivering crisp picture quality for fast moving images," noted Mr. Eddie Yeo, Executive Vice President and Head of LG Display TV Business Unit.

LG Display will showcase its newest cutting-edge display technologies featuring improved motion picture response time (MPRT), eco-friendly displays and more in a private room at the Bellagio Hotel during the upcoming Consumer Electronics Show (CES) 2009.