LG Preps A Slim 24-Inch LCD With A Million To 1 Contrast For CES 2009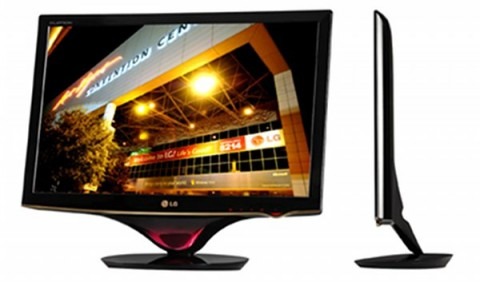 Few details slipped though a German site this morning revealed another ultra high contrast monitor, with a million to 1 dynamic contrast ratio, on its way to CES 2009 in a short couple weeks. This time, LG will be presenting the W2486L LED BLU 24-inch LCD monitor with a LED backlit technology.
There aren't any technology details at present to dig further its panel type; but with 2ms response time rating and ultra high contrast feature, I would have to guess it's likely a narrow viewing angle TN film panel.
Thanks to the newer LED backlit unit, perhaps the same kind "White LCD" as featured in the AOC World's thinnest 22-inch Verfino, the LG is also said to has featured 50% less power consumption compare to a traditional CCFL (cold cathode fluorescent) backlight panel. Also disclosed was a slim design LCD bezel with thickness at a mere 20mm in measurement, just 1.5mm short of the Verfino but the LG is a much bigger monitor.
[HDTV Space via engadget]