LG TONE Platinum puts Harman Kardon inside sleek BT headsets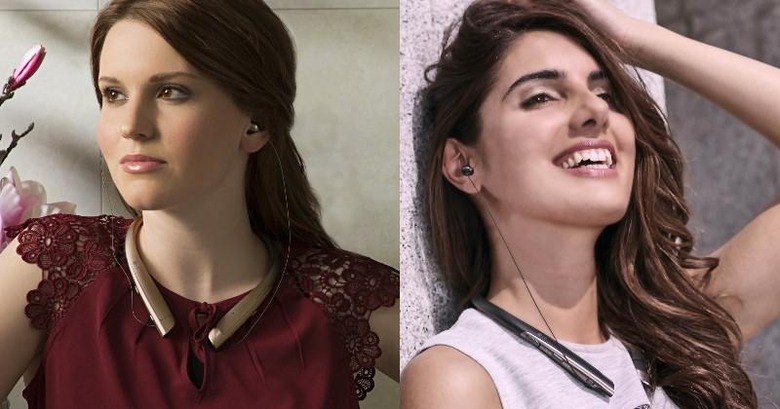 LG's TONE line of wireless headsets has been around the block already a few times but at the upcoming MWC 2016, it will be showcasing something a bit different. For one, the new TONE Platinum Bluetooth headset gives justice to its name, with its premium looking aluminum housing. But more than just the looks, it also flaunts sound quality that is delivered through a combination of multiple technologies, like Balanced Armature and aptX, and certified with Harman Kardon's iconic brand.
LG's "around the neck" design for its TONE headsets might be a bit unusual even after all the number of models in the market. However, it gives the best compromise between a bulky and rigid of traditional but fully featured headsets and the comfort of earbud type headphones. In the TONE Platinum's case, that is exhibited in the sleek aluminum housing that does more than make the headset look nice and feel comfortable.
A design usually employed for quality wired headsets, the TONE Platinum also uses a Balanced Armature driver design to minimize sound distortion. aptX HD Audio Codec helps to deliver CD-like audio quality even over the wireless connection of Bluetooth. Dual microphones are installed for both making clearer voice calls as well as noise cancellation.
More than just a listening accessory, the LG TONE Platinum is also a productivity headset, with Voice Command for accepting or rejecting incoming voice calls and Tone & Talk for Voice Memo and Find Me. The latter two features are available when paired with any Android smartphone running 4.1 Jelly Bean or higher.
The LG TONE Platinum will be on display at MWC 2016 next week before it rolls out in the US starting March. Asia, Europe, and Latin America will soon follow.