LG Tab Book: an Android hybrid tablet with an Intel Core i5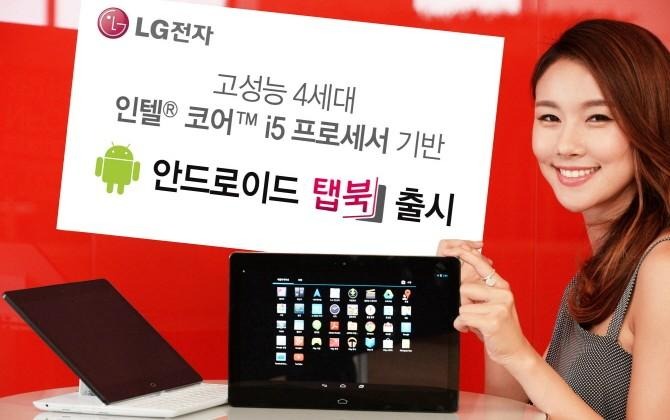 LG has taken the wraps off a new hybrid offering, an Android tablet packing some generous specifications alongside the promise of high usability for various needs. The device runs Android 4.2.2, and though we don't yet know the price or availability of the slate, we do have a rundown of what it offers.
The LG Tab Book is a powerful slate, at least as far as we can tell by looking at the details on paper. The slate has an 11.6-inch display, making it a bit larger than your average Android tablet. The unit weighs in at a little over 1kg, featuring a 2-in-1 construction with a sliding component that allows users to toggle it between tablet and laptop modes.
There's an Intel Haswell Core i5 4200U 2.6GHz processor running alongside Intel HD Graphics 4400 and 4GB of RAM. Storage is generous with a 128GB SSD, putting the Android tablet on par with many laptops — as far as power goes, it looks like the Tab Book will be a solid offering for relatively demanding needs.
Rounding out the details is its resolution, which is Full HD. Information on connectivity and ports aren't available at this time. The tablet was unveiled in Korea today — it isn't clear where the tablet will be available when it does launch.
SOURCE: LG