LG starts CES 2016 big with 98-inch 8K TV and more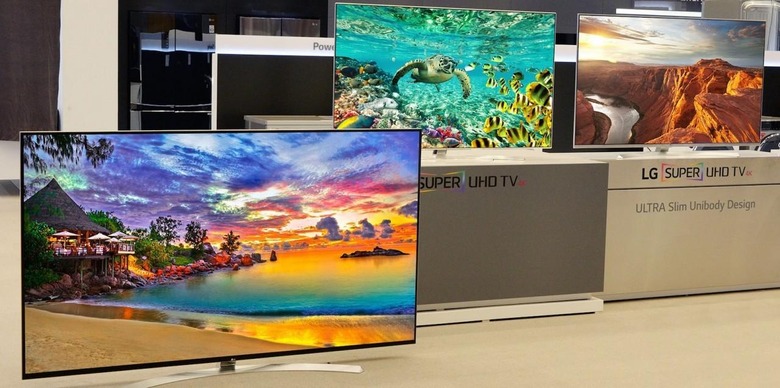 Picked up a 4K television yet? If not, you're now even further behind the curve, with LG bringing a 98-inch 8K TV to CES this year. Billed by the company has its first production-ready 98-inch 8K SUPER UHD TV, the unnamed set isn't actually scheduled to hit stores until the second half of this year – presumably to give you time to save up – but there are plenty of Ultra HD models to tide you over.
That includes the 65-inch UH9500 and 86-inch UH9550, and SUPER UHD TV 65-inch UH8500 and 75-inch UH8550.
Rather the OLED, the UH9500 and UH9550 both get an IPS LCD screen, with LG's True Black Panel and Contrast Maximizer technology to make the blacks inkier. HDR Plus boosts 4K picture quality, whether from an HDR source over HDMI, or through LG's SDR-to-HDR conversation engine.
There's also BT.2020 compliance, which LG says will be the next-gen standard for 4K content.
If your wallet can stomach the UH9500, you get a 6.6mm thick screen and super-skinny bezels. The speakers – developed with harman/kardon – use Magic Sound Tuning that automatically adjusts settings depending on the nature of the room.
Less expensive, meanwhile, will be the UH8500 and UH8550. Each will use a different design, but get features from their high-end siblings like ColorPrime Plus, Billion Rich Colors, ULTRA Luminance, and Contrast Maximizer.
No word on pricing at this stage, but LG says that it's not giving up on OLED, either. In fact, the company expects 4K and 8K sets to be delivered using both technologies moving forward, and "this is proof that we are not prioritizing one display over the other," LG home entertainment company president and CEO Brian Kwon said of the strategy.