LG sires a dancing Alexa Home Hub 'bot and an airport Dalek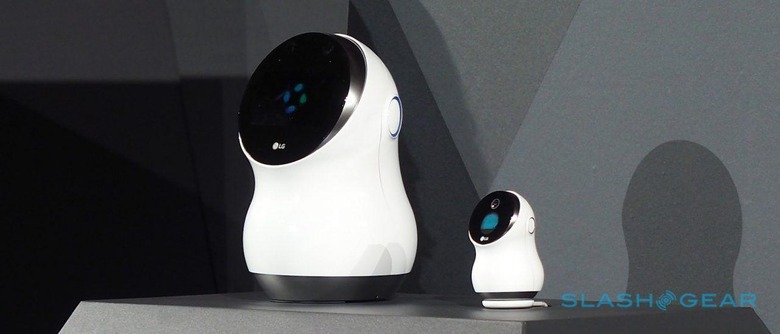 LG is thoroughly obsessed with robots, not that we can blame them, bringing a variety of robo-helpers large and small to its CES 2017 press conference today. In addition to domestic robots, which the company hopes will offer a more personal interface for its connected appliances, there are larger versions intended for public spaces. Your next flight check-in might be courtesy of a friendly Dalek.
In the home, the LG Hub Robot is the centerpiece. It looks a whole lot like troubled companion 'bot Jibo, down to the rotating base which lets the robot wiggle and dance on the spot. As with Jibo, the face is fronted by a large display that can either show winking, blinking digital eyes, or more task-specific information like music playlists.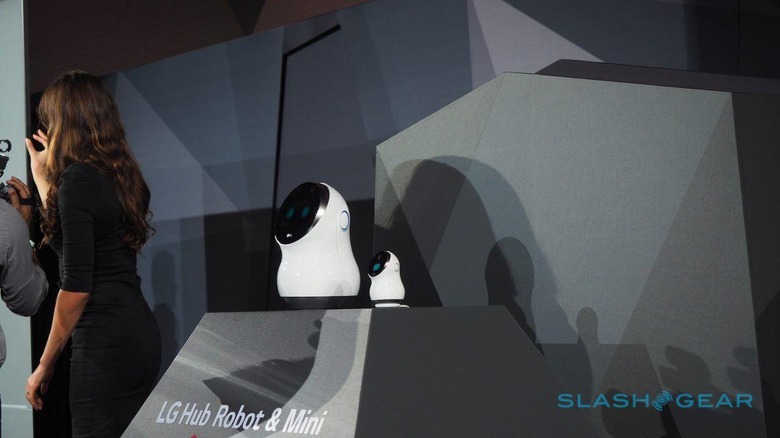 It's powered by Amazon Alexa, which means that all the usual questions, media requests, and smart home commands are recognized. However, there's further tie-in with LG's own connected appliances: the company is adding WiFi to every new model in its 2017 line-up, from refrigerators through washer-dryers to air conditioning units. You'll be able to ask the Hub Robot to see what's going on in the fridge and see a photo snapped by its interior camera, for instance.
Differentiating it from Amazon's Echo, though, is the potential for physical movement. Amazon's smart speaker may be able to do clever things with its LED light ring to show it has pinpointed you in the room and is listening, but the Hub Robot will be able to replace basic spoken interactions with physical nods and such. Its camera, meanwhile, can differentiate between different family members – greeting them in different ways, for instance – and track when they leave the house, return, and go to bed.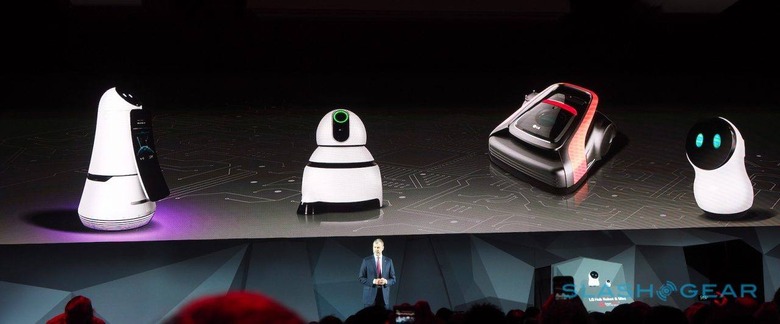 LG is hoping the Hub Robot earns a spot centrally in the home, such as the kitchen, though also has mini versions. They can be distributed as nodes around the home, and are outfitted with smaller displays but can do many of the same functions of the main 'bot.
Outside of the home, there's a new Lawn Mowing Robot that borrows technology from LG's robot-vacuums. It tracks its own location and that of potential obstacles like trees and hedges, trundling around the lawn and cutting the grass with its integrated blade.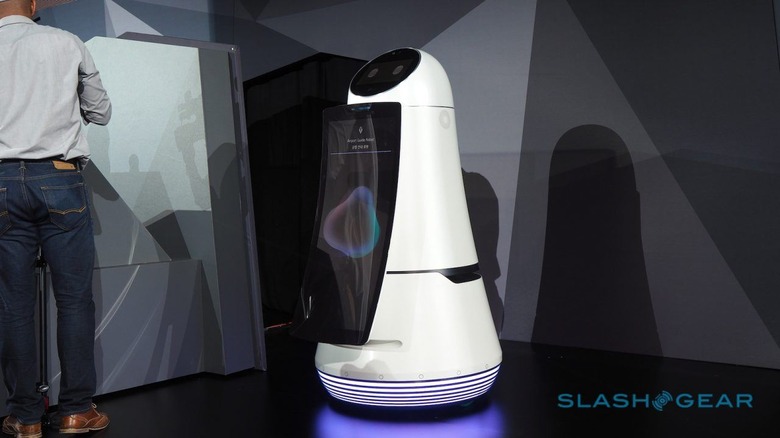 Further afield, LG has two robots for public spaces. The most striking is the LG Airport Guide Robot, a Dalek – or phallic – like creation in white plastic that "wears" an apron embedded with a curved display. It'll debut in Seoul's Incheon International Airport, and will answer questions about gates, boarding times, and destination weather forecasts. It can speak four languages – English, Chinese, Japanese, and Korean – and has a code scanner to read boarding passes. It'll be able to walk people to their gate or other locations, too.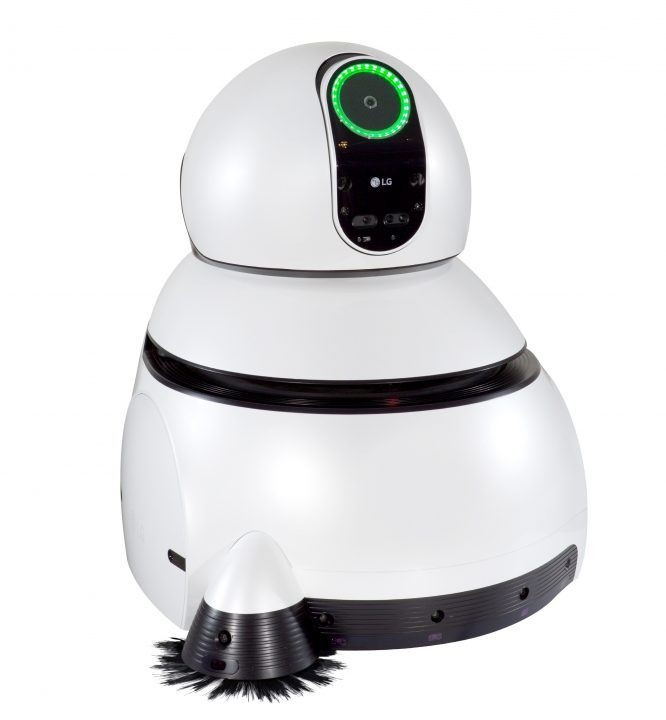 NOW READ: Meet Kuri, the robot that wants to be your best friend
Finally, there's the Airport Cleaning Robot. Effectively a larger version of the HOM-BOT domestic robot-vacuum, it has a much larger dust bin and suitably scaled-up brushes and motors. It's designed to clean both tiles and carpet, and has LIDAR and cameras to avoid bumping into people, suitcases, or other objects; in the worst case, the ring of bumpers are also sensors tracking impacts.
There's no word on when the LG Hub Robot will be available to purchase at this stage, nor how much it – or its mini-me siblings – will cost.