LG shows off Google TVs, 84-inch Cinema 3D TV and 55-inch OLED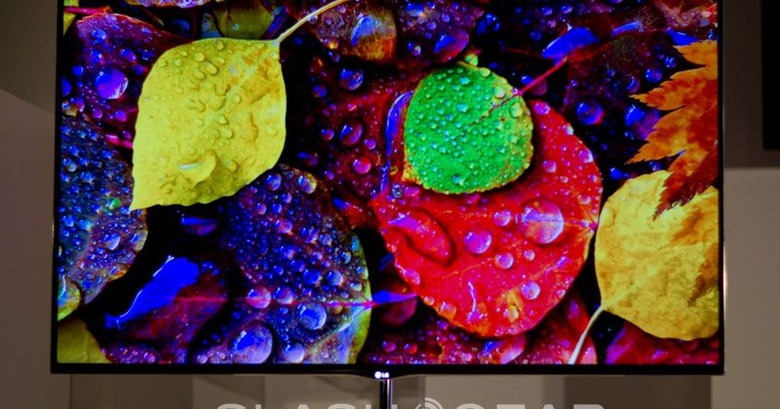 After the standard ra-ra presentation extolling LG's virtues in 2011, the company unveiled a series of new products for the coming year. Chief among them was the new television line, wit larger 3D sizes including 55, 60, 72 and a whopping 84". The 84" 3D Cinema TV uses a 4K resolution for some truly amazing visual experience, though they did not mention whether 3D viewing would bump that down to 1080p.
Behind a black curtain, LG showed off an OLED TV that was a whopping 55-inch OLED TV. LG calls it the thinnest, lightest and largest panel of its size. At just 4mm thin and 7.5 pounds, we're inclined to agree with them. Naturally, it also supports 3D content.
The company is formally announcing its partnership with Google for Google TVs, and they were shown off at the press conference. LG will introduce its own chipsets to support its Smart TVs, with an undefined quad-core ARM architecture. (This is for both Smart TVs and Google TVs). LMG860 and LMG620 models will be sold in 2012. Users can navigate via LG's custom interface or the standard Google UI via a separate QWERTY remote.
A new split-screen feature which allows two different video game players to see separate images based on which anle they're looking at is promising, though we've seen this in more fanciful demonstrations before. The LM9600 and LM 8600 models feature LG's custom dual-core chipset for faster loading. A stylus-enabled touchscreen plasma titled the LG PenTouch plasma TV. It's being marketed at businesses and families. LG's Cinema screens will have just 1mm bezels and 28mm bezels – just a little thicker than an ultrabook laptop.
New Magic Remotes allow for voice recognition, gestures and other navigation options for Smart TVs. The company is also redesigning its user interface around voice and camera-ased gestures, Xbox Kinect-style. WiFi screen sharing for those computers and phones that support it, as well as secondary wireless screens. Aparently this is a different standard from Intel's WiDi – which is also included.
A glasses-free screen system will be built into new monitors and laptops, paired to head-tracking cameras. In the smartphone area, LG showed off the existing Optimus LTE and LG Revolution, with VMware's virtualization solution on the latter. No new mobile phones were announced, but they teased new announcements at Mobile World Congress in February.
LG's SmartShare technology was also on display, with sharing between mobile, television, computers and appliances. On the appliance side, LG showed off an integrated refrigerator computer that manages the items in your fridge via a barcode scanner. It keeps a shopping list on the computer, and (if tha'ts your bag) you can order groceries directly from the refrigerator. They also showed off a Blast Chiller, which can chill the canned beverage of your choice to ice-cold drinking temperature.