LG Scarlet LG7000 HDTV: 50,000:1 contrast & optional Bluetooth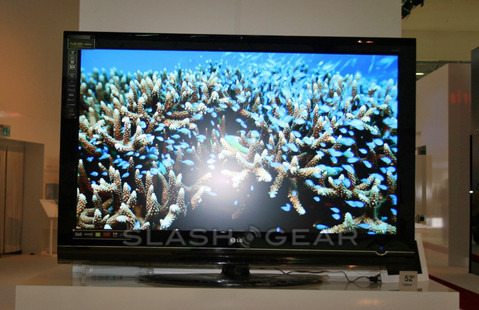 LG announced their Scarlet LG7000 HDTV today, a 1080p LCD with an intelligent backlighting system that, through reacting to ambient light conditions, can save up to 69.5-percent of the power usually required.  A 50,000:1 dynamic contrast ratio, TruMotion for reduced picture blur and 24P Real Cinema for high-definition film playback all add up to a response time of just 2.7ms.
Preset cinema, sports and game modes allow the LG7000 to be instantly configured to suit those activities.  However if you're more tempted to tweak, the Expert Mode (certified by the Imaging Science Foundation Picture Quality Calibration Institution, makes it possible to finely tune the picture at what LG are calling "a professional level". It provides customized picture performance for specific room conditions, with up to 25 more fine adjustment points than other sets.
Connectivity includes four HDMI 1.3 ports, a USB 2.0 port compatible with memory sticks and MP3 players.  In Europe, the LG7000 will also be available with built-in Bluetooth so that users can take advantage of A2DP wireless headphones as well as send photos direct to the TV from cellphones and digital cameras.  Audio is via an invisible Mark Levinson speaker array built into the bezel.  No word on availability or pricing yet.