LG retro TV delivers 1080p HD and physical channel dials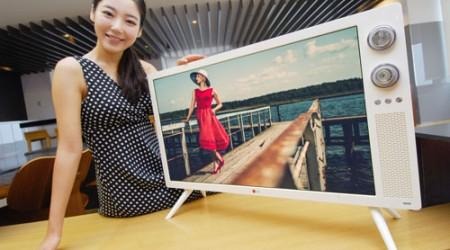 If you're in the mood this week for a lovely bit of nostalgia, LG is ready to bring the heat in full begone-era fashion with a retro set with physical dials. This is the LG 32LN630R, and beyond the bits and pieces that make it looks very much like a time-traveling set from the 1950s, the company keeps up with the times: 32-inches of 1080p IPS-based display.
This machine works with USB-based storage so you can play videos from a stick. It works with MHL technology so you'll certainly be able to output video from your current-gen smartphones (if they're rolling with MHL too, of course). This TV set is like the lost link between the original TV set (weighing enough to crush a small child) and today's ultra-thin and ultra-light models.
You won't need to toss this TV around, mind you, as it's got four retro-friendly pin legs to keep it aloft in your swank-toting apartment. Up front you'll be working with two massive dials (both of them wood-trimmed, mind you), one for channels, the other for volume, and the whole set is ready to rock with both wired cable and HDMI-input (again, MHL tech-ready.)
The only caveat in this whole weird situation of a release is the fact that LG has no current plans to release the 32LN630R to the USA. If they saw enough support from wild, ravenous retro TV lovers here in the USA, they might make a push for the future. For now you'll just have to import.
VIA: Engadget; Retro To Go