LG Q109 profit climbs: cellphones down, LCDs up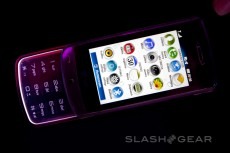 LG have reported their financial performance for the first three months of 2009, and while handset sales declined by 7-percent year-on-year, overall operating profit for the company as a whole increased 2.8-percent to $324m.  The real success was seen in LG's home entertainment division, with strong LCD demand pushing sales for the period up 18.6-percent to $3.05bn (for a profit of $10m).
LG predicts further declines for the global cellphone market, with their Q2 sales expected to decline to around 260m.  To remain competitive, the company is concentrating on high-end devices such as the Arena, together with feature-focused handsets such as the messaging Xenon, 8-megapixel Viewty Smart, and transparent-keyboard GD900.
No such worries for flat-panel displays, however, with LG suggesting that Q2's global demand will rise as developing markets look for smaller sets, while developed markets invest in second displays.  Incidentally, this is the first time I've seen the current economic climate described as the "global contraction", which sounds like something unpleasant that might happen to your lungs. 
Press Release:
LG Electronics Exceeds 1Q Expectations Amidst Global Contraction

Seoul, April 21, 2009 – LG Electronics (LG), a leader in consumer electronics and mobile communications, announced unaudited consolidated earnings results of the three-month period ending March 31, 2009. Amounts in Korean Won (KRW) are translated into US Dollars (USD) at the average rate of the three month period in each corresponding quarter: KRW 1,409 per USD (2009 1Q), KRW 1,362 per USD (2008 4Q, QoQ), KRW 955 per USD (2008 1Q, YoY).

Sales and Profit

In the first quarter of 2009, sales on a global basis including LG's overseas subsidiaries soared 14.6% to KRW 12.85 trillion (USD 9.12 billion) year-on-year. Operating profit saw KRW 456 billion (USD 324 million) resulting in a margin of 3.5%, 2.8% point higher than the previous quarter. On a parent basis, the company recorded sales of KRW 7.07 trillion (USD 5.02 billion), an operating profit of KRW 437 billion (USD 310 million). Consolidated sales including affiliates rose 10.7% to KRW 15.89 trillion (USD 11.28 billion) with operating profit of KRW 117 billion (USD 83 million), for a margin of 0.7%, 1.5% point higher than a year earlier.

-The Home Entertainment Company sales rose 18.6% to KRW 4.30 trillion (USD 3.05 billion) and returned a profit of KRW 14 billion (USD 10 million) due to robust flat panel TV sales, especially LCD TVs, even during low season. Shipments rose 40% YoY to 3,538,000 units. The company expects global demand in 2Q to be higher as demand for small flat panel TVs grows in emerging markets and developed markets look to purchase second units.

-The Mobile Communications Company reported KRW 4.25 trillion (USD 3.02 billion) in sales, 16.8% higher than the previous year, and operating profit of KRW 255 billion (USD 181 million) with a margin of 6.0%. Handset sales accounted for KRW 3.92 trillion (USD 2.78 billion), up 22.6% YoY and operating profit saw KRW 263 billion (USD 187 million) at a margin of 6.7%. Sales remained strong in mid-tier models such as Cookie, a full touch screen phone, and LG-KS360, a QWERTY keypad messaging phone, among others. Shipments of handsets recorded a decline of 7% YoY and 12% QoQ to 22.6 million units due to seasonal effect and the global market contraction. With the global economic downturn expected to continue, LG sees the global market declining over 10% YoY to around 260 million in the second quarter. LG is targeting over 10% growth QoQ by focusing on high-tier, feature-rich products such as Arena, with a new S-Class UI, messaging phones such as Xenon and Neon, Viewty Smart, an 8 megapixel camera phone and GD900, with a transparent keypad.

-The Home Appliance Company reported an increase of 16% to KRW 2.21 trillion (USD 1.57 billion) year-on-year. The currency impact resulted in sales declining on a USD base but growing for Korean won. The business downturn in the housing market slowed down the pace of the current recovery of consumption of the home appliance products, but the company's product competitiveness led the operating margin successfully recovered from loss from a year earlier to KRW 102 billion (USD 72 million). Looking at the second quarter, market demand is expected to shrink YoY due to the ongoing recession but the decline in the market will likely slow down.

-The Air Conditioning Company saw sales rise 8.9% to KRW 1.27 trillion (USD 900 million) year-on-year with USD sales declining but KRW sales increasing. Operating margin resulted in a profit of KRW 61 billion (USD 43 million) due to growth in premium models. Despite the global recession, the company foresees sales growing in the second quarter due to the seasonal change.

-The Business Solutions Company reported sales declining 6.6% YoY to KRW 1.10 trillion (USD 0.78 billion) with operating profit recording KRW 27 billion (USD 19 million). Demand withdrawal impact from global recession led to sales decline in monitors, commercial TVs for hotels and automotive products. The company will focus on improving sales from new B2B channels targeting products including network monitors and Pro:centricTM Solution hotel TVs.

Financial Statement and Non-operating Items on a Parent Basis

The company recorded a recurring profit loss of KRW 144 billion (USD 102 million) and net profit loss of KRW 198 billion (USD 141 million) primarily as a result of foreign exchange loss of KRW 316 billion (USD 224 million) and equity method loss of KRW 211 billion (USD 150 million) from overseas subsidiaries and affiliates. LG Display, in which LG Electronics has a 37.9% stake, booked an equity method loss of KRW 90 billion (USD 64 million).

2009 2Q Business Direction and Prospects

With the start of the high season for air conditioners and introduction of new products in major categories, the company expects the sales to expand over 10% QoQ.

Earnings Conference and Conference Call

LG Electronics will hold a Korean-language earnings news conference on April 21, 2009 at 16:00 Korea Standard Time at the LG Twin Tower Auditorium (B1 East Tower, 20 Yeouido-dong, Yeongdeungpo-gu, Seoul, Korea). An English-language conference call will follow on April 22, 2009 at 10:00 Korea Standard Time (02:00 GMT/UTC). Participants are asked to call +82-31-810-3001 and enter the passcode 6418#. The corresponding presentation file will be available for download at the Investor Relations section of the LG Electronics website (http://www.lge.com/ir/archive/main.jhtml) at 14:00 on April 21. Please visit http://pin.teletogether.com/eng/ and pre-register with the passcode provided. For those unable to participate, an audio recording of the news conference will be available for a period of 30 days after the conclusion of the call. To access the recording, dial +82-31-810-3100 and enter the passcode 109242# when prompted.