LG previews 55-inch OLED 3D HDTV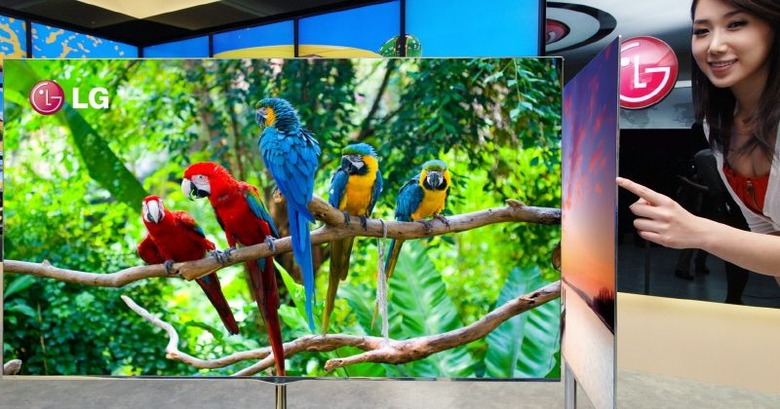 LG continues its pre-CES 2012 OLED HDTV tease, revealing images and more details of the 55-inch uber-panel set to go on show next week. Having confirmed the cheaper panel late last month, LG is now talking specifics with its 4-Color Pixels and Color Refiner technology: throwing in an extra, white pixel to the usual red, green and blue trio, for more accurate colors, along with improvements in hues and tones through the use of "an LG algorithm."
That – along with OLED's inherent display advantages – means LG can promise an infinite contrast ratio for the new 55-incher, with pictures LG says are simply impossible with existing LCD and LED panels. It's faster, too: 1,000x faster, in fact, than LED and LCD, for smear-free movies and sports.
As the new press shots show, all that display technology will be wrapped in a super-slick design, with a 4mm thick bezel. The whole set will weigh a mere 7.5kg, making it ideal for wall-mounting. There's 3D support, too.
What LG still isn't confirming is price, and though this new display uses a cheaper production process based on Oxide TFT technology, we're still expecting it to carry a premium tag. That – along with release dates – will presumably be shared at CES next month; we'll be there to bask in LG's glow.