LG press invite teases Qualcomm quad-core excellence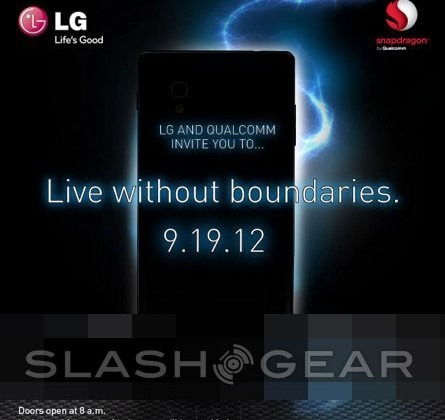 If you're ready for the next generation of Qualcomm processor-packing smartphone action, LG has you covered – a press invite has been sent out teasing us all with the future ability to "live without boundaries." This event will very likely be showing off the LG Optimus G here in the United States, complete with the Qualcomm quad-core Snapdragon S4 APQ8064. This processor takes the excellence of the dual-core S4 we've seen in devices like the HTC One series and the Samsung Galaxy S III (in the USA) and boosts up the power with double the CPU architecture – beastly!
The LG Optimus G is a device that's been confirmed not only to exist but to be working with the processor mentioned above. This device's design looks rather similar to the final form of the LG Intuition – a device we're reviewing right this minute – including a rubbery back and a single speaker grill as well as a corner-sitting camera lens. This device appears rather simple otherwise, save for the in-cell touch technology, of course.
In-cell touch allows the device's touchscreen technology and the display to be integrated into one unit, allowing the whole device to be much thinner. This smartphone uses a tiny 3mm bezel for near edge-to-edge display action, with the display being a True HD (1280 x 768 pixel resolution) IPS+ LCD. Fabulousness is ready here soon in the USA one way or another, but the device has already been announced else where too – NTT Docomo in Japan and on unnamed carriers in Korea as well.
Check our LG Optimus G timeline below and stay tuned on the 19th of this month for more information on LG's next generation of smartphone power!